Roku has unveiled the Streaming Stick, a thumb drive-sized device that offers access to Roku's hundreds of content channels.
The Roku Streaming Stick is slated for release in the second half of 2012, and will be packaged with Best Buy's Insignia TVs at the retailer's brick-and-mortar stores. No word on pricing yet, but since the other Roku models are between $49 and $99, it's safe to assume the Roku Streaming Stick will land somewhere in between, if not at an even lower price.
Roku has come a long way from its humble beginnings as a cheap little box for streaming Netflix. The Streaming Stick is basically the classic Roku box, shrunk down to the size of a USB dongle. Unfortunately for those who own older HDTVs, the device requires a Mobile High-Definition Link-enhanced HDMI port, which is currently only on a small handful of ultra high-end Toshiba and Samsung HDTVs.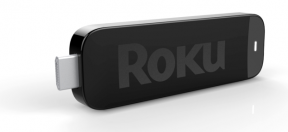 So while avoiding the expense of a new Wi-Fi enabled Smart TV with a bite-sized Roku stick is a great idea, in reality — at least for now — the Roku Streaming Stick is limited to a select audience of videophiles who probably already have Smart TVs.