At a Glance
Expert's Rating
Pros
Easy-to-use desktop utility
Zune/Windows Phone 7/Windows 8 interface
Cons
Doesn't do much Windows doesn't already do
Our Verdict
Tiles brings the Zune interface look to Windows with taskbar-like functionality.
There are those for whom the standard Windows interface never quite cuts the mustard. Stardock software has made a living off XP/Vista/Window 7 malcontents for quite a while now with desktop utilities that enhance the look of Windows and mimic the best features of other operating systems. Tiles, which can be installed as a standalone program or as part of the Object Desktop suite, falls into the latter category, making current versions of Windows look more like the upcoming Metro interface sported by Windows 8.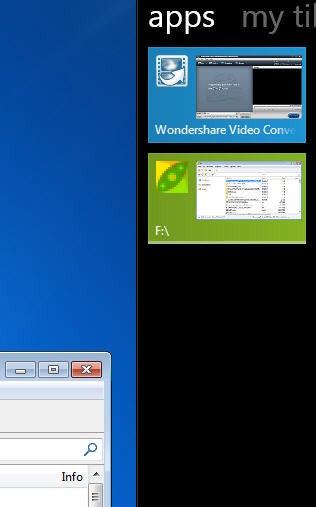 Currently in beta, Stardock's Tiles brings a small part of Zune/Windows Phone 7/Windows 8 to Windows XP, Vista, and 7. Basically, Tiles is a taskbar where everything–be it document or application-is a block or tile. If you've used a recent Windows phone, played with Windows 8, or used the now-discontinued Zune portable music player, you'll recognize the style as "Metro." You can freely arrange and categorize tiles in columns–Apps, Docs, and My Tiles–that you scroll between. Functionally, Tiles very much mimics the Windows 7 taskbar and the look is just like the Zune music and video player software, right down to the fonts and arrangement of the dialogs.
At default settings, Stardock Tiles sits where the Windows Vista/7 sidebar normally takes residence. If you prefer, you can move it to the left side of the screen. You can change the size of the Tiles window, have it hidden when not in use, and even mimic Windows Phone 7's touch-and-swipe behavior if you have a touch screen.
Tiles is meant to complement Stardock's WindowBlinds and Object Desktop and help you create a pseudo-Windows 8 interface. To that end, it succeeds admirably. On its own, it offers better categorization of launch buttons than the Windows 7 task bar, but not a whole lot beyond that. Stardock knows this, and being the savvy company that it is, gives it away for free. However, they'll also sell you a $10 version that allows you to add more categories/columns if the defaults won't cut it for you. If the Zune look and a slightly more configurable taskbar is what you want, go for it.
–Jon L. Jacobi