A wave of devices running Google's latest Android flavor, Ice Cream Sandwich, may be expected at the upcoming Consumer Electronics Show, but ICS is currently active on just 0.6 percent of all Android devices worldwide. The latest Android distribution numbers are based on Google's count of devices that have accessed the Android Market over a 14-day period that ended Tuesday.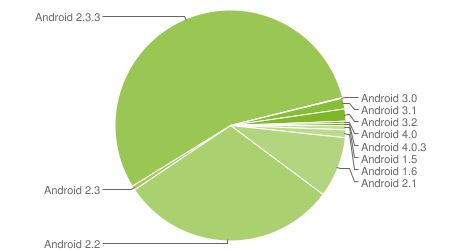 It's unclear how many devices 0.6 percent accounts for, but some are estimating there could be 1.2 million ICS devices or more in the wild. Google in November said it had activated 200 million devices.
ICS may not be a big hit yet compared to other Android versions, but that should change in the coming months. Most device owners expecting an ICS upgrade are still waiting for the new Android OS to roll out as the majority of upgrades are slated for the first three to six months of 2012. Computerworld has an updated list of Android devices expecting an ICS upgrade.
The first ICS device, the Samsung Galaxy Nexus, only launched in the U.S. on December 15; more ICS devices should make an appearance during CES starting next Tuesday. Finally, the source code for ICS was made available in November meaning any device manufacturers not working closely with Google only recently got their hands on ICS.
The most popular Android flavor is still Gingerbread (2.3), which was officially released in December 2010, with 55.5 percent of all Android devices. Froyo is in second place with 30.4 percent, while Google's tablet-specific OS Honeycomb, released in February 2011, claims 3.3 percent of all Android devices.
With Ice Cream Sandwich Google hopes to reduce the amount of version fragmentation currently plaguing the mobile OS. The new Android flavor will work on both tablets and smartphones, and the search giant recently introduced new mandatory device support for Holo, the stock ICS visual theme. Google hopes the new compatibility standard will make it easier for third-party apps that support ICS to look the same across a wider variety of Android devices.
Connect with Ian Paul (@ianpaul) on Twitter and Google+, and with Today@PCWorld on Twitter for the latest tech news and analysis.