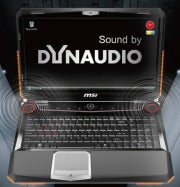 MSI Thursday unveiled its latest gaming laptop, the GT685. This 15.6-inch laptop features top-of-the-line hardware, including the Nvidia GeForce GTX 580M graphics card and a second-generation Intel Core i7 quad core processor.
Gaming laptops are all about maximum computer performance, thanks to the demanding graphics of games. So MSI has stuffed this 7.7-pound gaming rig with Nvidia's latest laptop graphics card with 2GB of video RAM, as well as four DDR3 memory slots for up to 32GB of memory, and a dual hard-drive architecture so you can mix a fast SSD with a large (up to 1.5TB) traditional hard drive.
The Nvidia GTX 580M card is this laptop's big highlight. Introduced in June last year, Nvidia claims the card is the fastest notebook GPU ever. MSI says in its GT685 press release that the graphic card's Optimus overclocking means you'll see crisper and more detailed 3D images on the laptop's full HD (1920 pixels by 1080 pixels resolution) display.
The GT685 doesn't have the show-stopping keyboard of sibling MSI GX780, but there is an LED light show you can trigger on the sides of the laptop's angular frame.
No word on pricing or release date yet. For now, you can mull over the rest of the MSI GT685's specs:
Follow Melanie Pinola (@melaniepinola) and Today@PCWorld on Twitter
Note: When you purchase something after clicking links in our articles, we may earn a small commission. Read our affiliate link policy for more details.