In advance of CES in Las Vegas next week, Lenovo today announced laptops targeting small and midsize businesses. Looking to combine "serious business technology and personal lifestyle computing features", Lenovo introduced the $499 B Series entry-level laptop. But it's the ThinkPad Edge S Series that's more interesting, with an ultrabook option as well as hybrid storage that combines a solid-state drive (SSD) with a hard disk.
[For more blogs, stories, photos, and video from the nation's largest consumer electronics show, check out PCWorld's complete coverage of CES 2012]
ThinkPad Edge E Series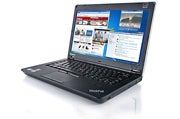 The mainstream ThinkPad Edge E series focuses on performance and will become available in three colors in April starting at $549. Including either an Intel or AMD processor, the E Series models are available in four sizes: 11.6, 13.3, 14, and 15-inches. The E series uses SSD storage, boosting the performance and battery life, and has an option for up to 1TB of storage. The model also includes a high-resolution Web camera useful for video conferencing.
ThinkPad Edge S Series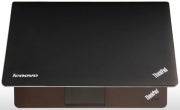 The 14-inch ThinkPad Edge S430, available in June starting at $749, is meant for the "image conscious professional". With a mocha black soft-touch finish with metal accents, this thin laptop also offers the same capability to combine a SSD with up to 1TB of storage, though a DVD burner can be used in place of the secondary hard drive. Only available with an Intel Core processor, it has an option for a 2GB NVIDIA Optimus graphics card that provides a "HD+" resolution of 1600 x 900. It also includes Dolby Home Theatre v4 which provides surround sound audio, and an Intel Thunderbolt port that was until now limited primarily to Apple products.
Business Ultrabook?
Lenovo is claiming the S430 as its first ultrabook for business. Intel has suggested that ultrabooks will be less than .8 inches thick and weigh less than 3.1 pounds, so the S430 at .96 inches thick and 3.96 pounds wouldn't qualify under that definition. Still, the model offers great features, notably hybrid storage and high-end graphics. With hardly any Thunderbolt accessories available, the Thunderbolt port isn't currently a great selling point, but that's likely to change this year as more computers support the standard.
Business Management
Businesses look for good performance in a manageable package, and Lenovo started addressing this through its Lenovo Solution Center, a management tool that can remotely control settings and deploy updates. It's available on all models with Intel processors. It continues with two series that contain a number of features that extend the capabilities of business laptops.
Worth Looking At?
You can expect many manufacturers to target users who want strong performance for both work and personal computing in one package. Both ThinkPad Edge models offer hybrid storage, great for business with its combined benefits of performance and capacity, which stands out from existing laptops. With so many other products about to be released, wait to see if Lenovo has captured the interest of businesses, or if someone else hits the perfect combination of performance, size, and features.
Joseph Fieber has 25 years experience as an IT pro, with a background in computer consulting and software training. Follow him on Google+, Facebook, or Twitter, or contact him through his website, JosephFieber.com.