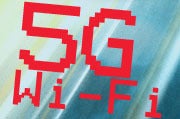 Wi-Fi is getting faster–again. Today Wi-Fi chipmaker Broadcom announced its first chips based on the coming 802.11ac standard, the successor to today's 802.11n Wi-Fi. Products based on 802.11ac are expected to begin appearing late this year, delivering improved coverage and theoretical speeds up to twice those offered by the fastest 802.11n gear.
Broadcom is calling its 802.11ac products 5G Wi-Fi because 802.11ac will be the fifth-generation IEEE standard for the popular wireless networking technology. The previous four were 802.11, 802.11b, 802.11a/g, and 802.11n.
The 802.11 standard was introduced in 1997, but never gained much traction. It had a theoretical top speed of 2-megabits-per-second. Two years later, 802.11b delivered a theoretical 11mbps, and it became the first widely used Wi-Fi technology. In 2002, the 802.11a and 802.11g standards raised the bar with top theoretical speeds of 54mbps. The two standards used different areas of the wireless spectrum and hence were incompatible, with 802.11a operating exclusively on the 5ghz band and 802.11g (like 802.11b before it) using the 2.4ghz band.
By the mid 2000s, Wi-Fi had become so popular that many more stakeholders had an interest in the next-generation version. Consequently, it took seven years for the IEEE to develop and ratify the 802.11n standard, which encompassed a range of options designed to accommodate the many different types of devices that incorporate Wi-Fi today, from PCs and consumer electronics to cell phones and tablets.
For example, 802.11n devices can operate on either the 2.4Ghz or 5Ghz bands or both, and speeds vary widely based on the number of transmitting and receiving antennas (802.11n on a cell phone usually isn't as fast as 802.11n on a notebook). But the fastest 802.11n devices use technologies such as multiple spatial streams, channel bonding and packet aggregation to offer improved coverage and theoretical top speeds of 600mbps.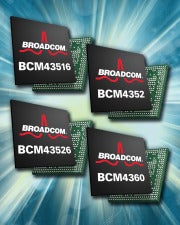 Similarly, 802.11ac also offers a number of options, which are reflected in Broadcom's first chip offerings. But all 802.11ac chips will all use the 5Ghz band, which is much wider than the crowded 2.4thz band and can therefore more easily support the 80mhz channels that contribute to 802.11ac's speed boosts (802.11n channels max out at 40Mhz). 802.11ac also uses beamforming technology to achieve its faster rates and improved coverage. And because it is more efficient, 802.11ac takes less of a toll on battery life, a key attribute for mobile device use.
Broadcom chips are also backwards compatible with all 802.11n gear (both 5Ghz and 2.4Ghz), although not at 802.11ac speeds.
Broadcom's fastest 5G Wi-Fi chip, the BCM4360, implements 3 spatial streams on a PCI interface to achieve maximum speeds of 1.3GHz. The midrange BCM4352 and BCM43526 chips support a two-stream implementation of 802.11ac for theoretical maximum speeds of 867mbps for use with, respectively, PCI and USB interfaces. The single-stream BCM43516 supports up to 433 mbps with a USB interface. The PCI chips are primarily for routers, access points and computers, while the USB chips are meant for consumer electronics such as TVs, Blu-ray players and set-top boxes.
Broadcom sees 802.11ac gaining traction for a wide range of high bandwidth applications for both businesses and consumers, ranging from streaming media to data sync and backups. On mobile devices, 802.11ac supported is expected to help offload traffic from already choked carrier networks.
The name of the standard, 802.11ac, derives from the IEEE's convention of naming related standards as their working groups are established. With Wi-Fi, the IEEE had already exhausted single-letter suffixes (a through z) to 802.11 and had started all over again with two-letter suffixes–e.g. 802.11aa 802.11ab and now 802.11ac.
Broadcom expects to see its 5G chips in network gear starting in the third quarter, with other end-user products following by the end of the year.
For more blogs, stories, photos, and video from the nation's largest consumer electronics show, check out PCWorld's complete coverage of CES 2012.