At a Glance
Expert's Rating
Pros
Superb HTML 5 performance
Thousands of add-ons make it a "Swiss Army knife"
Cons
Slow page loads
Too many add-ons can slow down the browser
Our Verdict
This browser is faster, sleeker, and easier to use in its latest incarnation.
Mozilla's Firefox 9 browser promises a raft of new features and speeds as much as 30 percent faster than those offered by its predecessor.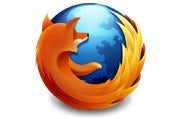 Now available as a free download for Windows, Mac, and Linux, Firefox 9 offers enhanced JavaScript performance and new developer tools that make browsing the Web much faster, Mozilla says.
Other highlights include Mac OS X Lion support and an Android version that's optimized for tablets.
Up to 30 Percent Faster
Firefox 9's Type Inference is what's delivering the boost to JavaScript performance, built to make it much faster to load and run websites and Web apps rich in pictures, videos, games, and 3D graphics.
Type Inference is a feature of the SpiderMonkey JavaScript engine that integrates with the JaegerMonkey JIT compiler to provide analysis and help generate more efficient code.
Firefox with Type Inference is up to 30 percent speedier on JavaScript benchmarks like Kraken and V8, Mozilla says.
The new Firefox is also faster because it supports chunking XHR requests, allowing websites to display content as it's downloaded rather than waiting for the entire download to complete. This will be especially noticeable for sites that download large sets of data or use AJAX, Mozilla notes.
–Katherine Noyes