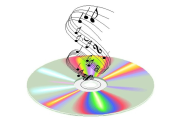 Downloading music online is finally more popular than purchasing a CD in the United States. And yes, it really took this long.
In 2011, digital music accounted for 50.3 percent of purchases, beating physical music sales for the first time, Nielsen SoundScan and Billboard reported. Digital sales climbed 8.4 percent last year, while physical sales fell by 5 percent.
Nielsen and Billboard used album sales as their metric, but counted downloads of 10 individual songs as an equivalent "album" to keep things fair between digital and physical. When counted this way, total album sales increased for the first time since 2004.
The implications are huge. Although the music industry loves to complain about piracy, this data shows that digital music sales can flourish, even without draconian digital rights management that punishes legitimate customers. iTunes, the biggest source for digital music, ditched DRM in 2009, and sales have continued to improve. Meanwhile, new business models have opened up for the music industry, including ad-supported YouTube videos and streaming services like Spotify. These developments haven't stopped the rise of digital music sales, either.
The transition took a long time for the music industry, but that won't be the case for video and books. The Internet is a much bigger part of life now than it was when iTunes launched 10 years ago. Now that users can turn to smartphones, tablets, and TV set-top boxes for content, the demand for digital media will grow even faster.
Movie studios, TV networks and book publishers would be wise to embrace digital and make as much of their content available for download as possible. I'd love for them to abandon DRM, too, but they're probably too scared about piracy to even consider it. Maybe the music industry's turnaround will help them see the light.
Follow Jared on Twitter, Facebook or Google+ for even more tech news and commentary.