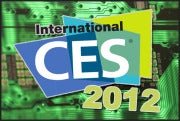 CES 2012 is almost here, and the deluge of new product announcements is already underway. PCWorld will be on the ground in Las Vegas to report on the latest and greatest gadgetry and hardware. Here's how to keep tabs on our exclusive coverage of this year's show.
Be sure to visit our CES hub page for our comprehensive coverage from the show floor. If you want the fastest news possible from CES, follow our official PCWorld Twitter account at @PCWorld for quick updates on the big stories and trends from the show.
In addition, you can follow the rest of the PCWorld CES team for their general thoughts and observations about both the show and their specific subject areas.
TVs and Gaming Peripherals: Patrick Miller (@pattheflip)
Desktops: Nate Ralph (@Nateralph)
Laptops: Jason Cross (@JasonCross00)
Cameras and TVs: Tim Moynihan (@aperobot)
Phones: Ginny Mies (@TheLastGinny)
Phones and Mobile Apps: Armando Rodriguez (@megapenguinx)
Cars and Gadgets: Sarah Jacobson-Purewal @geeklil
Routers and Networking: Megan Guess (@megangeuss)
Gaming and Gadgets: Alex Wawro (@awawro)
In addition, editor Ed Albro will be on hand at (@edalbroPCW) to cover anything and everything else cool on the show floor.
The CES festivities kick off Sunday with CES Unveiled, which begins at 4PM Pacific (7PM Eastern). We'll see you then.