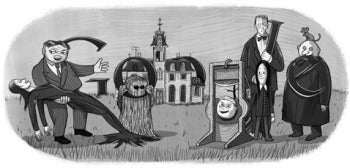 Google is giving a nod to the Addams Family.
The Internet search leader is celebrating what would have been the 100th birthday of Addams Family creator Charles Addams with a Doodle featuring the creepy, kooky, mysteriously spooky family.
Its home page features Morticia, Gomez, Cousin Itt, Pugsley, Wednesday, Lurch, and Uncle Fester meshed with Google's logo in a black and white cartoon. Click on it and you'll get a page with search results for the cartoonist, including a link to the Tee and Charles Adams Foundation, which provided the Doodle to Google.
While the 1960s TV show and its finger-snapping jingle might come to mind when you think of the Addams Family, the characters actually had their genesis earlier — in cartoons, many of which appeared in The New Yorker starting in 1938. Initially, the family members didn't have names and they didn't get them until the show was in development.
Addams, who drew more than 1300 cartoons during his lifetime, was born in New Jersey on January 7, 1912. From a young age, his father encouraged him to draw.
He created cartoons for a high school magazine, attended several universities that now hold tribute to him and, in 1933, joined True Detective magazine, where he was tasked with retouching photos of corpses.
Addams was known for his work creating ghoulish characters.
According to Linda Davis, who wrote a biography of Addams, he became famous for the sinister stuff, which earned him monikers such as "the Van Gogh of the Ghouls" and "the graveyard guru."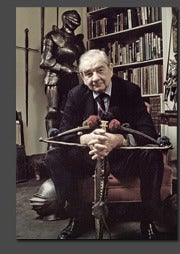 Addams has also been recognized for his renderings of architecture that came through in his art.
Indeed, the Addams family's mansion was something to behold. The cartoon version was dilapidated and condemned but on the television show it was a museum and Gomez was forever picking up some odd curiosity. And remember the nailbeds and other painful accoutrements family members would joyfully use?
The Addamses on TV were completely oblivious to their eccentricity, and that was their charm. While the black and white show aired for only two seasons, millions have enjoyed reruns for decades. If you'd like to watch one now, check out this YouTube channel, which offers several episodes.
Several adaptations followed the original cartoons and popular TV show, including an animated series and several films in the 90s.
If you're a Google Doodle fan and you want more, just check out the recently revamped Google Doodle website, which lets you search for them by year and country and even offers a Doodle store where you can buy posters, T-shirts, coffee mugs, skateboard decks, and other paraphernalia featuring your favorite Doodles over the years since the first one surfaced in 1998.
(See also "20 Notable Google Doodles.")
Follow Christina on Twitter and Google+ for even more tech news and commentary and follow Today@PCWorld on Twitter, too.