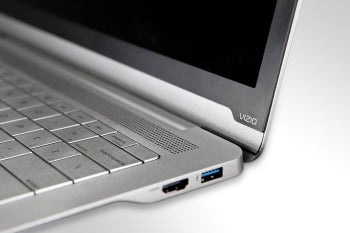 Vizio, the flat-panel TV maker known for its sleek designs and low prices, is taking an unexpected move: it's entering the PC business with a range of thin-and-light laptops and all-in-one desktops. The company's capability to get screens for a bargain could allow it to undercut its competitors' prices and shake up the PC market.
Don't expect Apple, Dell, and other players to run for cover or close up shop, but if Vizio is able to do what it did in the TV space, consumers looking for an affordable computer with powerful entertainment features will have more options.
Vizio plans to reveal two desktop PCs and three notebooks at the Consumer Electronics Show in Las Vegas next week, according to Bloomberg. Perhaps in an effort to bait customers, Vizio Chief Technology Officer Matt McRae said the Windows-based machines will go on sale by June at "a price that just doesn't seem possible." No pricing specifics have been given.
Apparently, Vizio thinks it can do better than the rest of the field. Its new desktop computers will be all-in-one models that house electronics in the display and will include entertainment functionality that convey audio and video to Vizio TVs and speakers. The company is working on software that will help Vizio's televisions share content and interact with its computers and tablets connected to a home network.
McRae said Vizio has been working on its computer designs for two years and will be making products like look like Apple's but are cheaper, reports The Wall Street Journal.
How will Vizio be able to sell computers at hinted upon rock-bottom prices? For one thing, it gets screens for a bargain from two Taiwanese manufacturers that also hold equity stakes in the company.
The new desktop PCs will have 24- or 27-inch screens, one notebook will have a 15.6-inch screen and two ultra-thin versions will have 15.6-inch and 14-inch screens.
For more blogs, stories, photos, and video from the nation's largest consumer electronics show, check out PCWorld's complete coverage of CES 2012.
Follow Christina on Twitter and Google+ for even more tech news and commentary and follow Today@PCWorld on Twitter, too.