Sony on Saturday denied a report that it has decided to promote the head of its consumer product division, Kazuo Hirai, to lead the company from April.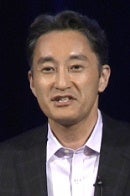 The company was responding to an article in Japan's main business newspaper, the Nikkei, that Hirai would replace current President Howard Stringer. Sony issued a terse press release that it had made no official announcement or decision.
Questions over the leadership of Sony, viewed domestically as a barometer for Japan's tech industry, have surfaced as the company struggles with deep financial losses. The firm said in November it was on course to lose over a billion dollars for the current fiscal year, weighed down by its TV business and the strong yen, after predicting just months earlier it would make a hefty profit.
Hirai, 51, who led a turnaround in Sony's PlayStation video game business, is widely seen as next in line to lead the company. The charismatic executive, who is fluent in English, would become its youngest leader since the late founder, Akio Morita, according to the Nikkei.
In the announcement of his promotion to his current role from April of last year, Sony said its management changes were aimed at "empowering the next generation of Sony's management."
Hirai has recently appeared at many key events for the company, including the announcement of its second-quarter results in November and the launch of its PlayStation Vita in Tokyo last month.
Japanese companies often make key management changes in April, when most begin their fiscal year.
Last month, Sony said its financial forecast may change again, due to the sale of its share in a joint venture with Samsung Electronics to produce LCD panels.