If 3D printing is something that excites you, get ready for a rush.
The process, which involves using a machine to turn a digital file into a finished physical object by building it up layer by layer, is something that makes technophiles drool, but up until recently was too expensive for the average tinkerer.
But 3D Systems launches at CES its beta Cubify.com platform, which sounds like it might be pretty amazing once the wraps come off it. It also indicates that more people may soon be giving 3D printing a shot.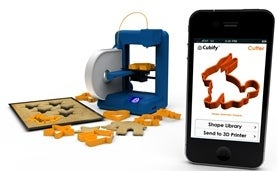 Sometime in the next few months, 3D Systems will start selling a new Cube 3D printer priced at $1299 that comes with a cartridge of plastic available in ten colors. The printer is 14-by-14-by-18 inches, weighs less than 9 pounds, and can print about ten to twelve "average size" parts, which Rajeev Kulkarni, 3D Systems VP and general manager of consumer solutions, says works out to be about $4 to $5 per part. When it's time to reorder a new cartridge, the cost is $50.
But the really interesting part is the Cubify platform itself.
It's a free online social platform that's available for individuals, artists, developers, and creative partners.
As an individual, you can go online and pick a digital file of something you like — let's say a mug, belt buckle, or cookie cutter. Then you download an app that lets you customize it. After you've designed your custom product it's just a matter of either wirelessly printing to your own Cube printer, or sending it to 3D Systems' printing service, and they'll produce it for you.
But some people want to do more than just play around with 3D printing.
You can use the tools on Cubify to create products that you think are marketable and sell them right there on the platform. And companies already printing their own 3D products can use Cubify as another sales channel.
While Cubify already has a pretty beefy inventory of apps created by the 3D Systems developer community, Kulkarni says Cubify is wide open for any developer who wants to market 3D apps. "We are really relying on the developer community to come up with ideas and build on this platform in various ways so that it grows 3D printing into a space where people like moms, dads and kids can use it in the house," he says.
Artists and developers get 60 percent of the revenue from sales of products or apps on Cubify. 3D Systems takes a 30 percent share and the rest goes to sales tax, they tell me.
Geomagic, a company that transforms 3D scan data into highly accurate polygon and native CAD models for reverse engineering, product design, rapid prototyping, and analysis, is one software company already on the Cubify bandwagon. It has created a super cool Kinect-To-Print app that lets you use your Kinect to print things.
Check out this fresh video: It shows a man using a Kinect to make a 3D replica of his own head!
At CES, the company also will be showing off a variety of Tablet-To-Print content creation and manipulation apps for 3D printing. 3D Systems also will be making available 3D collection libraries as downloads.
As PCWorld has pointed out, so far 3D printers in the home have been a device in search of a niche. But with companies like 3D Systems dreaming up fun ways for regular people to play around with it, 3D printing might be getting closer to the mainstream.
Follow Christina on Twitter and Google+ for even more tech news and commentary and follow Today@PCWorld on Twitter, too.
[For more blogs, stories, photos, and video from the nation's largest consumer electronics show, check out PCWorld's complete coverage of CES 2012.]