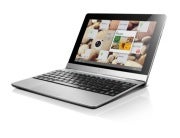 Lenovo on Sunday announced the 10-inch IdeaTab K2 gaming and multimedia tablet, which has a quad-core ARM processor and a premium IPS display similar to the one found on Apple's iPad.
The tablet has Nvidia's quad-core Tegra 3 processor and Google's Android 4.0 OS, said Nick Reynolds, director at Lenovo. The tablet also packs some new technologies such as DDR3 memory and SRS surround sound, making it one of Lenovo's fastest and feature-rich tablets to watch video or play high-definition games, Reynolds said.
The price was not immediately available, and it will initially be launched in China "soon", Reynolds said. He declined to comment on international availability, but the device will be shown at this week's Consumer Electronics Show in Las Vegas.
"Lenovo continually assesses the international market dynamics and consumer needs and we may consider launching outside of China later in 2012," Reynolds said.
Tablets with strong brand recognition like Apple's iPad 2 and Samsung's Galaxy Tab come with dual-core processors, and the IdeaTab K2 will be one of the few with a quad-core processor. The combined processing power of four cores should allow the K2 to run multimedia and applications faster than its dual-core counterparts.
"It's a high-performance, premium device," Reynolds said.
The tablet's closest competitor will be Asus' Eee Pad Transformer Prime, which shipped in November and was the first tablet available with a quad-core processor. The Asus tablet was dubbed the fastest tablet on the market and received positive reviews, partly due to long battery life.
K2 will display images at a 1200 by 800 pixel resolution, and will have cameras on the front and back. Other features include an HDMI port to connect the tablet to high-definition TVs and a full-size USB port. The tablet will come with 1GB or 2GB of DDR3 memory, and up to 64GB of storage. In the future, the tablet will also have 3G and 4G LTE mobile broadband capabilities.
Lenovo also announced new IdeaTab S2 models with screen sizes of between 5 inches to 10 inches, but most will initially be released only in China.
The standout model is the 10-inch IdeaTab S2-10 tablet, which the company said is among the thinnest and lightest available in the category. The tablet runs on Android 4.0, and will be the only IdeaTab S2 tablet available outside China.
The S2-10 is 8.69 mm thick and weighs 580 grams. The tablet has a Qualcomm Snapdragon 8960 dual-core 1.7GHZ CPU and Android 4.0. The display shows images at a 1280 by 800-pixel resolution, and the tablet has a front camera and a 5-megapixel rear camera. A keyboard docking option is available for a laptop feel, and a second attachable battery provides up to 20 hours of battery life. The tablet has two USB ports and storage of up to 64GB.
The IdeaTab S2-10 will launch in the second quarter of 2012, though Reynolds said it was too early to share price information.
The other new IdeaTab models available only in China will have 5-inch, 7-inch and 9-inch screens. The 5-inch model will have voice capabilities and display images at a 800 by 480-pixel resolution. The larger screen models will have 1280 by 800 displays and run on Qualcomm's Snapdragon processors. Reynolds said the IdeaTab S2 tablets could become available worldwide depending on market needs.
Lenovo also detailed its cloud strategy, saying it would design devices so applications can access or exchange data through private or public clouds. The company hopes to combine content, infrastructure, access devices and middleware as part of its "cloud solutions."
Much like Apple's mobile device strategy, Android tablet makers are looking to wrap together hardware, software and services. Lenovo wants to become a content and e-commerce enabler, and wants to provide a common look and feel for videos and music accessed through the web.
"We need a solid, reliable infrastructure of data centers, servers and storage running over a common backbone and connecting regional infrastructure as a services partner in order to maximize the speed and efficiency," Reynolds said.
The cloud service will be launched later in 2012, the company said.
Lenovo also said it was assigning a new IdeaTab brand name for consumer tablets.
"As we expand mobile Internet and digital home devices around the world, it's really important for us to have a common identity, including China. From now on, our consumer tablet devices will be known worldwide as IdeaTab," Reynolds said.
For more blogs, stories, photos, and video from the nation's largest consumer electronics show, check out PCWorld's complete coverage of CES 2012