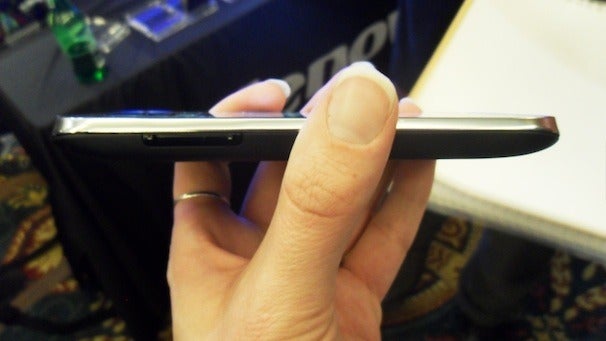 At tonight's CES Unveiled event, we got a brief look at some smartphones from Lenovo. The Lenovo S2 doesn't run the latest and greatest version of Android (Ice Cream Sandwich), but this Gingerbread-based phone still caught my eye. Its rounded curves and thin body make it stand out from the legions of rectangular all-black Android phones with 4.3-inch displays.
The S2's 3.8-inch display has an 800-by-480-pixel resolution. I didn't get a chance to run video on it (it was hard enough keeping other journalists away from it), but I opened a few websites and was impressed by the display's brightness and clarity.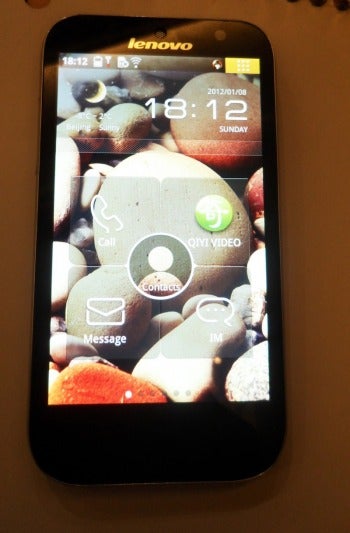 Other than its design, how does the S2 differentiate from other Android giants? According to Lenovo, the S2 has a unique kernel-level security system that protects your data, prevents phishing, and traffics SMS messages. I'm meeting with Lenovo later this week, so I'll find out more information about this security system.
Another neat feature is automatic cloud-syncing for photos, music and other information a la Apple iCloud.
There's also a custom-built skin running over Android Gingerbread. As you can see from the photo of the homescreen (right), you can pin shortcuts from frequently-used applications, and I liked how clean the layout was. I will try and find out more about this overlay this week, and whether the S2 will be getting an Ice Cream Sandwich upgrade.
Currently, Lenovo has not made any formal announcements on pricing and availability. The phone will be available in China immediately, however. As a fan–and owner–of Lenovo laptops, I'm looking forward to seeing more from them in the smartphone category.
For more blogs, stories, photos, and video from the nation's largest consumer electronics show, check out PCWorld's complete coverage of CES 2012.