Asus announced two new tablets will join its U.S. arsenal: One is a higher-resolution variant on the recently released Asus Eee Pad Transformer Prime, while the other is Asus' long-awaited take on a 7-inch tablet.
The original Transformer Prime TF201 is barely a month old, and it received solid reviews for its strong performance and sleek design. Hot on its heels is the Asus Eee Pad Transformer Prime TF700T. This model is due out in the second quarter of 2012, and will complement the existing model; pricing starts at $599 for the 32GB version, and $699 for the 64GB version.
Shoppers will be paying a $100 premium on each of those models to gain the TF700T's high-resolution, 1920-by-1200 resolution Super IPS+ display. That resolution makes it only the second tablet announced that's capable of playing back 1080p video. To be precise, it can handle 1080p MPEG-4/H.264 High Profile, High Bit Rate video decoding and playback . The first tablet announced to support 1080p is Acer's Iconia Tab A700, is expected to market in Q1.
(See Related Slideshow: Hands-On With Acer Iconia Tab A700 Tablet With Android 4.0)
Like the original Transformer Prime, the high-res version has a quad-core 1.3-GHz Nvidia Tegra 3 processor, 8-megapixel rear-facing camera, and 2-megapixel front-facing camera. Everything else remains the same, right down to the dimensions and weight.
Eee Pad MeMo Debuts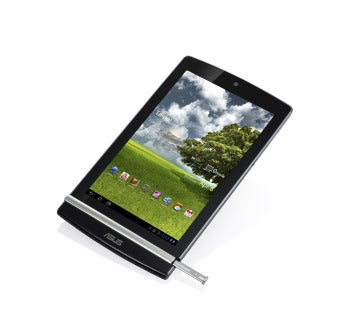 Asus also unveiled its long-rumored, oft-hinted-at 7-inch tablet. The Asus Eee Pad MeMo ME370T is the latest in a line of WXGA 1280 by 800 resolution 7-inch tablets. Already, we have the T-Mobile SpringBoard and the Toshiba Thrive 7" shipping with a high-res display; and on those models, I've found the extra pixels can make a tablet's text and graphics look sharper and more detailed.
Inside, the ME370T runs a 1.2-GHz quad-core Tegra 3 processor, has 1GB of memory, and offers 16GB and 32GB storage options. Originally announced with a Qualcomm 8260 inside, it is the first 7-inch tablet to feature the Tegra 3. On paper, this model more than passes muster: It has a 1.2-megapixel front-facing camera, and 5-megapixel rear-facing camera; micro-USB, micro-SDHC card, and micro-HDMI ports; plus there's a SIM card slot for a mobile broadband version. The tablet measures 7.8 by 4.6 by 0.50; and it weighs 0.89 pounds; its dimensions and weight put this tablet right in line with the 7-inch models.

For more blogs, stories, photos, and video from the nation's largest consumer electronics show, check out PCWorld's complete coverage of CES 2012.
Eee Pad Transformer Prime TF700T