A top Israeli official said Saturday that cyber attacks are similar to terrorism and merit the same response, just a few days after tens of thousands of credit card numbers were released by a hacker going by the name "oxOmar."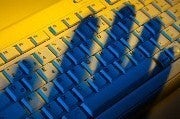 Deputy Foreign Minister Danny Ayalon, who spoke at an event in the city of Beersheba, said "no agency or hacker will be immune from a response," according to the English-language Jerusalem Post on Sunday.
Israel's Banking Supervision Department said last Tuesday that the information released last week involved around 15,000 active cards and came from three credit-card companies: Cal (Cartisey Ashrai Le'Israel) — Israel Credit Cards; Isracard, and Leumi Card.
Ayalon himself also appears to have been targeted following his comments. On Monday morning, Ayalon's personal website for a short time redirected to a different domain containing Arabic messages and the note "Hacked by Foxy + TKL and Gaza HaCKeR Team."
"We declare war in cyberspace," according to a Google translation of the page. "Do not be afraid of these monkeys."
Efforts to reach spokespeople at Ministry of Foreign Affairs and Ayalon through his restored website were unsuccessful.
An Israeli blogger claimed to have tracked down "oxOmar," who was believed to be a 19-year-old living in Saudi Arabia. Blogger Amir Fedida wrote that he believes oxOmar is actually from the United Arab Emirates and living in Mexico.
Fedida wrote that a few hours of sleuthing showed the "not-so clever hacker, to put it mildly, made many mistakes," according to a story in The Haaretz, another English-language Israeli publication.
The Israeli government was the target of website hacks late last year, when its sites were downed shortly after a threat by the collective Anonymous, although the source of the outage was not confirmed.
Send news tips and comments to jeremy_kirk@idg.com