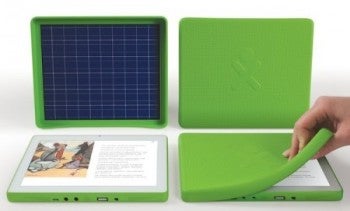 OLPC, the acronym for One Laptop Per Child, might have to become OTPC if the program's latest reference design takes off. The nonprofit dedicated to bringing technology to kids in developing countries, in cooperation with chipmaker Marvell, brought a prototype ruggedized 8-inch tablet to the Consumer Electronics Show.
Encased in the same bright green plastic as OLPC's notebooks, the XO 3.0 tablet is powered by a Marvell PXA618 ARM system-on-a-chip and also uses Marvell Avastar Wi-Fi technology. Its 1024-by-768 display can use either conventional or dual-mode Pixel Qi technology (sunlight-readable when outdoors); the prototype uses as its OS either Android or the same Linux-based Sugar desktop employed on OLPC notebooks.
More importantly, the XO 3.0 tablet requires even less power than the notebooks, making it potentially more feasible as a low-cost educational tool.
Helping to keep the costs low are a trio of charging options. At the CES Unveiled press event Sunday evening, OLPC CTO Edward McNierney showed a green hand-cranked power supply that can be used as an alternative to a or conventional battery. McNierney says operating the crank for six minutes should produce two watts of power, which should be enough to keep the tablet running for an hour.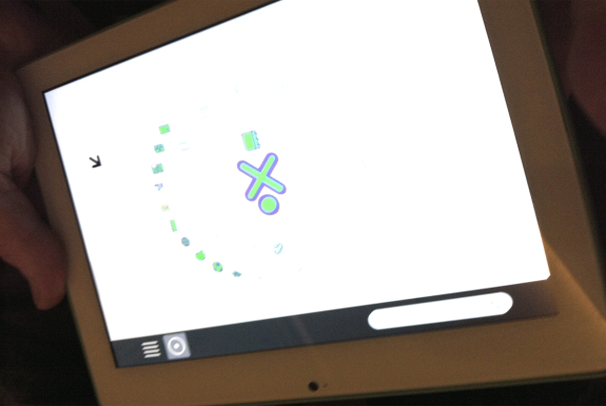 Alternatively, charging the solar panel cover for an hour should generate 4 watts of power, enough to run the tablet for two hours. (The cover fits on to the back of the tablet and connects via electrical pins.)
OLPC has been working on a tablet for some time now (reports have surfaced intermittently over the last year or two), and a previous power crank was withdrawn due to mechanical problems.
Although some reports have pegged the cost of the OLPC tablet at $100 or less, McNierney declined to give a specific figure. As with OLPC notebooks, he said, the tablet won't be manufactured until a project sponsor steps up.
Meanwhile, Marvell and OLPC also announced that the latest OLPC notebooks (XO 1.75), which are also based on the Marvell PXA618 SOC, will begin shipping in March.

For more blogs, stories, photos, and video from the nation's largest consumer electronics show, check out PCWorld's complete coverage of CES 2012.