The smartphone is on a device-killing rampage, and camcorders are next on its hit list.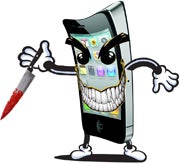 The NPD Group's tally of U.S. sales of consumer electronics during the holiday 2011 period showed a massive 42.5 percent drop in camcorder sales, and an overall drop of 5.9 percent (which was an improvement over 2010's 6.2 percent decline). GPS units and point-and-shoot cameras were also hit hard, dropping 32.6 percent and 20.8 percent, respectively. The culprit? Smartphones.
Keep in mind that the NPD Group did not provide sales data for cellphones, tablets, e-readers or video games — some of the most popular consumer gadgets of the past year, especially the tablet. But when you consider that modern smartphones can take high-resolution pictures, record 1080p HD video, and sport GPS apps that have been made by GPS unit manufacturers (as well as play MP3s and serve as portable hard drives — two other products that saw 2011 sales drops), no other product on the market can claim as much responsibility for the death of standalone devices.
So it looks like, now more than ever, that Cisco made a good call bailing on the once-popular Flip camcorder when it did.
Other big losers of 2011 were digital picture frames (down 37.5 percent), hard disk drives (down 20.8 percent), and MP3 players (down 20.5 percent). However, the report wasn't all doom and gloom; some products saw significant increases in 2011, such as TVs larger than 50 inches (up 32 percent), 3D TVs (100 percent), and streaming devices such as Apple TV, Roku, and TiVo (65 percent).
And for those who have put the PC on the deathwatch, sale of those did drop 4 percent — hardly enough to claim the end of the PC era, but once tablet sales are put into the equation, who knows?