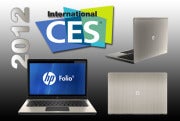 Future Ultrabook laptops will have touchscreens, voice recognition, longer battery life and lower prices, an Intel executive said Monday, as he also took a swipe at tablets during a press conference at the Consumer Electronics Show.
More than 75 Ultrabooks are in the pipeline for 2012 and new hybrid designs with tablet features will be released later this year, said Mooly Eden, general manager of the PC client group at Intel.
Intel is putting its muscle behind Ultrabooks, which are being promoted as a category of thin and light laptops with tablet-like features. Intel hopes that the addition of new features in future Ultrabooks will reinvigorate the slumping PC market, which is being battered by tablet sales.
"People like to create in order to express themselves," Eden said. They are not "consumption cows," he added, taking a shot at tablets, which are often viewed as more for accessing content than for creating it.
The sticking point remains the current starting price of Ultrabooks, which is more than US$800, but Intel hopes to bring the price down to under $699 by the end of the year.
PC makers and Intel are working together to accomplish that, he said. "Our target is to pull it [down] collectively," Eden said.
Future Ultrabooks will not only be thinner, but the touchscreens will push their functionality to a new level, Eden said.
"The touch skipped the Ultrabook, it was dedicated to phones, it was dedicated to tablets," Eden said. "It won't skip the Ultrabooks anymore."
Users don't want to give up keyboards, so touchscreens will provide complementary functionality for gestures, zooming, cropping and scrolling, Eden said. Intel also announced a partnership with Nuance to bring speech recognition to Ultrabooks later this year.
Ultrabooks will also come in hybrid designs with flip screens that can be flipped down so that the devices look more like tablets.
Other Ultrabook Possibilities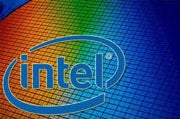 Intel also demonstrated other possible future Ultrabook technologies, showing a concept laptop called Nikiski based on Windows 8 with a small screen at its bottom. When the Nikiski laptop is shut, the screen at the bottom can be used to access basic laptop data.
"You want such a PC? You'll have to wait," Eden said.
Another laptop was demonstrated that could recognize hand gestures to control games, much like the Wii, but without a controller.
Ultrabooks in the future won't be just recycled laptops, said Charles King, principal analyst at Pund-IT, who attended the press conference.
"As the new features come to the line probably beginning in fall — the hand gesture, touchscreen features, speech recognition — you are looking at Intel resetting the bar of what people expect out of laptops," King said.
New Ultrabooks coming later this year will be based on the Ivy Bridge microprocessor, which will follow current Core processors code-named Sandy Bridge. Acer on Sunday showed its upcoming Aspire s5 Ultrabook with an Ivy Bridge microprocessor and said the chip provides more than a 20 percent CPU performance improvement and 30 percent graphics improvement.
Ultrabooks will deliver the performance of standard laptops and will on average generate power of 17 watts, Eden said. The performance can be scaled up to 35 watts — that of standard laptops — to boost performance based on application demands.
Eden demonstrated an Ultrabook with Ivy Bridge running a high-performance game, much like standard laptops.
Ivy Bridge will be followed by processors code-named Haswell, which will provide 20 times improvement in idle time on laptops.
"I'm waiting to see some of my competition doing this," Eden said.
Intel last year announced a $300 million fund to promote the development of technologies for Ultrabooks. Research firm IHS iSuppli has predicted that Ultrabook shipments will be 136.5 million in 2015, up from less than 1 million expected this year.
So, PC makers are using CES as a springboard for Ultrabooks. Hewlett-Packard, Acer and Lenovo have already announced Ultrabooks, some of which are targeted at business customers.

For more blogs, stories, photos, and video from the nation's largest consumer electronics show, check out PCWorld's complete coverage of CES 2012.