AT&T's CEO Ralph De la Vega Monday announced a slew of LTE 4G devices, ranging from high-end smartphones to a waterproof tablet to a tablet/smartphone hybrid to affordable phones under $50. De la Vega stressed the bringing LTE to the masses by offering a range of different kinds of 4G gadgets and varying prices. The announcement was made at a morning CES keynote.
The most exciting of the crop is the Sony Ericsson Xperia Ion with its 12-megapixel camera and 4.6-inch display. The Ion is coming in the second quarter of this year.
Next, we have the Samsung Galaxy S II Skyrocket HD with a 4.56-inch display, an 8-megapixel camera, a dual-core 1.4GHz dual core processor and a razor-thin profile. Availablity: Not detailed.
Samsung has another interesting entry in AT&T's LTE Galaxy Note, a tablet/phone hybrid that uses Wacom pen technology. Check out our hands-on of the Galaxy Note. Availability: Expected in coming weeks in AT&T stores and online.
[Read: AT&T Expands 4G LTE Network to 11 More Cities]
Rounding out the phone line-up are two sub-$50 phones, the $50 Samsung Exhilarate, which is made from recycled materials, first sustainable LTE device and the Pantech Burst. No availablity date given Monday for either.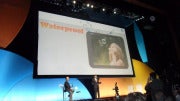 Microsoft CEO Steve Ballmer made an appearance at the AT&T event, promoting the differences between Windows Phone, which is widely praised by reviewers yet lags seriously behind competitors in sales, and other phone platforms. Specifically, he noted that Windows Phone lets developers incorporate social and other features into apps so that users don't have to open multiple apps constantly.
AT&T also announced an LTE Honeycomb tablet, the Pantech Element. Pantech has been making messaging phones and inexpensive Android phones for AT&T for years, but this is its first entry into the tablet market. The waterproof Android Honeycomb tablet has an 8-inch XGA display with haptic feedback. AT&T is offering a special deal where you can buy the Pantech Burst and Element together for $250. Expected to be available on Jan. 22.
We're getting our hands on these devices later today so stay tuned for more photos, first impressions, and video!

For more blogs, stories, photos, and video from the nation's largest consumer electronics show, check out PCWorld's complete coverage of CES 2012.