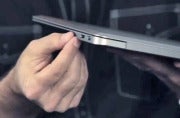 I'm not easy to impress with a new laptop. And frankly, when I think about a TV, Vizio's not the brand at the top of my list. But after going hands-on with an early version of Vizio's upcoming laptops and speaking about them with CTO Matt McRae, I have to admit I'm rather impressed.
The laptops themselves are downright slick, all rigid unibody aluminum with high-res screens (1600 by 900 on the 14-inch thin-and-light, and 1920 by 1080 on the 15-inch models). The industrial design is clean and minimal, with almost no outward branding; there's only a small glowing Vizio logo on the corner of the lid, and a small Vizio name in the corner beneath the screen. The company said there will be no stickers or labels: no "Intel inside" or "Nvidia GeForce" or anything of the sort. They're still roughly 5 or 6 months from launch, but already there's an immediate, apparent quality to it.

Specs are not final, but we got a few hints. The laptops are using an as-yet-unavailable CPU, and promises to be the fastest on the market, so that means Intel's Ivy Bridge. The thin-and-light models (Vizio won't call them Ultrabooks, though they fit the definition) use integrated graphics and come equipped with SSDs. The 15-inch "standard" version is just a little thicker and heavier, but that enables the company to add an Ethernet jack, SD card slot, and Nvidia discrete graphics. The exact model hasn't been revealed yet, because it's Nvidia's upcoming unannounced generation of mobile graphics.
I asked what Vizio will do with their software build, and the answer was music to my ears: "It's all clean." No trialware, no custom-developed mediocre picture viewers or connection managers, no antivirus software that pesters you to register and subscribe. It'll be standard Windows, with Microsoft Security Essentials for antivirus. You're going to load all your own favorite software anyway, right?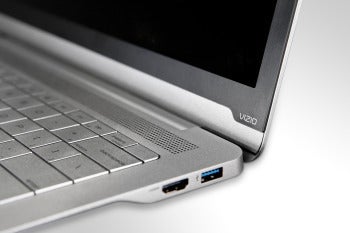 The systems are still not quite complete, though. Vizio doesn't have final branding or specs to share, though they promise they'll be the fastest laptops in their class, and aggressively priced. The company is completely aware of the fact they it gets one chance to make a first impression in the PC market, so it has spent two years developing these laptops. If their latest TVs are four-star products, these are meant to be five-star products, aiming at a higher quality level than the TVs they currently sell. This was certainly the impression I got from a little hands-on time. Still, there's some work to be done. The keyboards and touchpad need refinement, and the edges are a little on the sharp side. Vizio is currently working on these usability issues, as they approach launch around May or June. We'll have more on Vizio's entry to the PC market as we learn more details in the coming months.
In Video: Interview With Vizio CTO Matt McRae

For more blogs, stories, photos, and video from the nation's largest consumer electronics show, check out PCWorld's complete coverage of CES 2012.