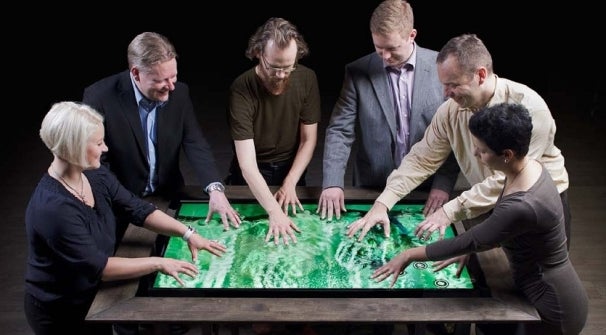 You usually wouldn't want a screaming band of frenetic children to get their grabby little hands all over your tech gear, but MultiTouch Ltd. looks forward to just that every day. At CES 2012, the Finland-based company launched the MT550W7 MultiTaction Cell 55-inch Full HD LCD Embedded Windows interactive touch display, a unit which can keep up with what dozens of hands and fingers are doing to it at the same time.
While the company is hardly a startup, it showed off its proprietary finger-following technology at Startup Debut, a technology showcase held Sunday at CES 2012. MultiTouch kid-friendly touch displays are already installed in museums and other public venues around the world, including at the NASA Space Center in Houston.
The company's Computer Vision Through Screen (CVTS) technology can detect an unlimited number of fingertips, fingers, hands and other objects–like a card with a security code on it–at the same time, according to a MultiTouch representative. He noted that the software is smart enough to match five detected fingertips with a single palm, thus allowing the system to keep up with what each finger on each hand is doing.
A key problem with touch displays is the detrimental effects of extraneous ambient light, he said. Another MultiTouch technology, Hybrid Tracking, combats this problem by alternating between tracking reflections and tracking shadows, a technique which ignores most external lighting, according to the company.
The MT550W7 MultiTaction Cell 55-inch Full HD LCD Embedded Windows display is about 7.9 inches deep, has thin bezel and can be installed in furniture, while the similar MT550 offers the same features without the embedded version of Windows 7. MultiTaction Cell displays can be combined to form a larger virtual display and can be used on walls or as tables.
Robert S. Anthony is a New York-based technology journalist. He writes a tech blog called The Paper PC.

For more blogs, stories, photos, and video from the nation's largest consumer electronics show, check out PCWorld's complete coverage of CES 2012.
Like this? You might also enjoy…
Get more GeekTech: Twitter – Facebook – RSS | Tip us off