One of my resolutions for 2012 is to break free of Microsoft Outlook. My dislike of that program knows no bounds, yet I've been stuck with it for years. Now I'm shopping for replacements.
First, I'll need a new e-mail client, and I know Mozilla Thunderbird's reputation well enough to make it my first candidate.
After spending an afternoon with the program, I found myself exasperated by one incomprehensibly dumb feature (or lack thereof): when you reply to an e-mail, Thunderbird doesn't mark it as read.
Huh? Seriously? It's true. By default, Thunderbird will mark a message as read after you've viewed it for a certain amount of time (five seconds is the standard setting). But I always turn that option off, as I'm not always done with an e-mail the first time I look at it.
With that setting off, Thunderbird won't mark any message as read, even if you reply to it. Ridiculous.
Fortunately, there's an add-on that can save the day. It's called Change Quote and Reply Format (not the most glamorous name, I grant you), and it works.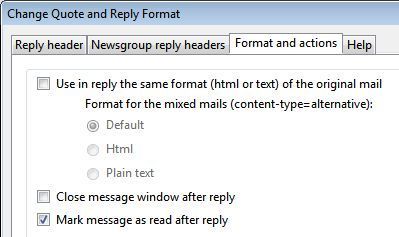 To get it, click the link above, scroll down to the bottom of the page, then download the file (which is provided in xpi format). Now fire up Thunderbird, then click Tools, Add-ons.
Next to the field marked "Search all add-ons," click the little gear and choose Install Add-on From File. Navigate to the folder where you saved the xpi file, click it, and then click Open.
Now click Extensions, find the Change Quote and Reply Format add-on, and click Options. Click the Format and actions tab, then enable Mark message as read after reply. Click OK and you're done.
Now, when you reply to an e-mail, Thunderbird will mark it as read. Duh, Thunderbird!
Contributing Editor Rick Broidawrites about business and consumer technology. Ask for help with your PC hassles at hasslefree@pcworld.com, or try the treasure trove of helpful folks in the PC World Community Forums.Sign up to have theHassle-Free PC newslettere-mailed to you each week.