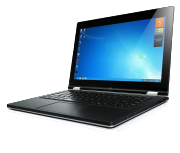 Windows 8 is designed to be at home on both traditional PCs and tablets. Lenovo is taking this to heart with a products designed to be both. The Lenovo IdeaPad Yoga (yes, that is both the development code name and the final product name) takes a 17mm thick Ultrabook and gives it a screen that can flip back on a pair of double hinges.
It's a neat design that turns the 13.3-inch laptop into a rather large tablet. While the system is thick and heavy by normal tablet standards, it's a lot thinner and easier to carry than any convertible notebook we can remember.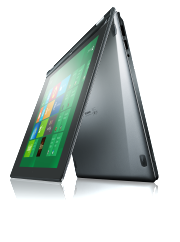 The IdeaPad Yoga is designed with Windows 8 in mind, and should ship right around the launch of Microsoft's new OS, likely in the second half of this year. There are no official specs yet, but it will use Intel's next-generation (Ivy Bridge) processors.
You'll notice a lot of similarities to the design of the IdeaPad U300s, Lenovo's current Ultrabook. The aluminum construction and general shape and size are similar, though Lenovo has replaced the wrist rest with textured plastic that has a "leather-like" feel to it. The display has obviously changed as well, as the Yoga sports a capacitive touchscreen with 10-point multitouch. It's also loaded with the sensors you'd expect in a tablet, like GPS, gyroscope, and accelerometer.
Despite the cool concept, I have my doubts. There's something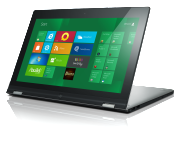 just plain weird about using the system in tablet form, with the keyboard on the back. How long will the keys last when people just jam the thing into their bag in tablet mode every day? Do people value a laptop that can turn into a tablet enough to live with a tablet that is comparatively thick, heavy, and hot?
There's no release date or price just yet, but Lenovo is aiming for the Windows 8 release timeframe and a price in the $1000-1200 range ("As close to $1000 as possible," we're told). Our final opinion will have to wait until we can get our hands on a final review unit and live with it for awhile.

For more blogs, stories, photos, and video from the nation's largest consumer electronics show, check out PCWorld's complete coverage of CES 2012.