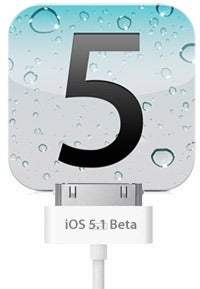 Apple released to developers a third beta of iOS 5.1 that brings back the 3G data toggle missing on the iPhone 4S since its release. There are no other changes on the surface in the new beta, but according to 9To5Mac, strings inside the iOS 5.1 beta 3 code hint at a quad-core iPhone and iPad this year.
The references to the quad-core iPhone and iPad chips were found in the code of the iOS 5.1 beta 3, and it's not the first time Apple hinted at future hardware through its developer releases. In the first beta of iOS 5.1 in November, reference codes were found for the next-generation Apple TV, as well the next iPhone and two new iPad models — although historically not all products referenced in iOS betas were released.
If Apple is indeed working with quad-core processors (A4 was the 1GHz chip, A5 dual-core 1GHz, so maybe A6 for quad-core?), this would allow the company to power high-resolution displays, like the iPad 3 with Retina Display that pundits expect to be released this spring. As it was with the A4 and A5 chips, once the new iPad model is released, the quad-core processors could then find their way in the revamped iPhone 5 tipped for later this year.
Code hints aside, iOS 5.1 doesn't seem set to be a very exciting update for iOS users. So far Apple listed several minor bug fixes, most of them relating to iCloud accounts or migrating from MobileMe, as well as security improvements. As mentioned, the third beta brings back the 3G data toggle under Settings/Network, missing for iPhone 4S users, which allows data traffic through EDGE in order to use less battery.
Follow Daniel Ionescu and Today @ PCWorld on Twitter