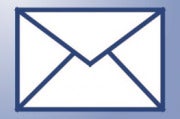 Have you noticed the strange, inexplicable, seemingly random appearance of the letter J in some e-mail messages? Usually it crops up at the end of sentences, though sometimes it lands smack in the middle of them.
What's going on here? Some weird virus? Do a lot of people accidentally fat-finger the letter J? Or is "J" some new hip-hop slang, as in, "Dang, that new LMFAO tune is so J!"
No, no, and no. What's happening here is that someone sent you a smiley emoticon, but your mail client didn't display it properly.
For example, in Outlook, the e-mail client I use and detest, when I type a colon and right-parenthesis, then hit Space, Outlook converts this popular "smiley" emoticon into an actual little smiley face. (I'm sure there's some way to turn off this "autocorrect" "feature," but wading into Outlook's endless and mysterious settings menus makes my brain cry.)
The recipient of that e-mail may see that same smiley face (or one like it), or he may see only a letter J–especially if it's a smartphone- or Web-based mail client. In Gmail, for example, you see that J in the abbreviated e-mail body that appears when viewing your inbox. (When you actually open the message, however, the smiley should appear.) I've also noticed this in my iPhone's inbox.
So that's the explanation in a nutshell: the J appears when your mail client can't properly render a smiley icon. Weird but true!
Contributing Editor Rick Broidawrites about business and consumer technology. Ask for help with your PC hassles at hasslefree@pcworld.com, or try the treasure trove of helpful folks in the PC World Community Forums.Sign up to have theHassle-Free PC newslettere-mailed to you each week.