There are lots of ways to produce electricity. We don't generally think about that fact because we're seldom very far from a power outlet. But when you're lost in the woods and your GPS device runs out of juice, an alternative to a power outlet sounds really attractive. And that seems to be what Signa Chemistry has created.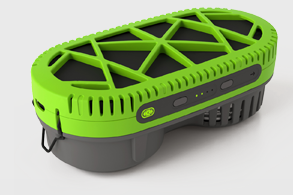 The company, working with partners, has developed a recharge system that requires just a tablespoon of water, a small metal tin the size of a snuff container and a plastic container about the size of an eyeglass case. Put all the pieces together and in about 15 seconds, you can start recharging your GPS device, phone or camera.
The system produces about the same amount of power as 4 AA batteries and will give you about 10 hours of phone battery life.
I don't pretend to understand the chemistry involved, but here's how Signa President Michael Lefenfeld explained it. The small metal tin contains a chemical the company developed called sodium silicide. Combine that chemical with water and you get hydrogen gas. That hydrogen gas then passes into a membrane where it mixes with oxygen in the air and produces electricity and water vapor. The water vapor dissipates in slightly moist air, leaving you with electricity to power up your devices.
The PowerTrekk system is being produced by Signa's partners, the Swedish company myFC, and should be available by May in REI stores. Lefenfeld said Signa doesn't control the price of the system, but the device should cost between $200 and $250 and replacement tins should cost about $4, roughly equivalent with a four-pack of AA batteries.
One interesting note: The process doesn't require clean water. You can use water from a stream or a puddle. Signa is working with the military and says soldiers stuck without water can even use urine to run the system.
Lefenfeld has big plans for the system. The company has built a pack that will have 800 watt-hours of power (compared to the 5 watt-hours of the system I saw) and will demonstrate it powering an electric bike later on tonight at CES. In the future, he hopes to see the system in use in electric cars and producing power in rural parts of the world that have no power grid now.
I'm always a little skeptical of new power systems because I've seen a lot come and go without making much impact. But I saw Signa's system in action and it recharged my phone in the time I was talking with Lefenfeld and his colleague, Andrew Wallace, so I've got some faith that this one might work. Here's a video that shows Wallace setting up the PowerTrekk system.