At a Glance
Expert's Rating
Pros
Similar usability to Illustrator
Pro-level tools for vector design
PDF import, editing, export
Cons
Similar annoyances to Illustrator
Many features locked in free version
Steep learning curve
Our Verdict
Create accurate vector illustrations, logos, and other artwork for print or online with DrawPlus.
The Starter Edition of Serif's DrawPlus is a giant carrot on a stick leading you to purchase DrawPlus X5, a very complete Illustrator-style tool for drawing vector graphics. In DrawPlus Starter Edition many of the best features of the program are locked, but it'll show you enough to know if you want to pony up the $99 to buy the full DrawPlus X5 version.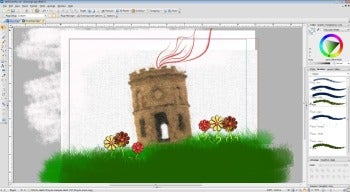 DrawPlus is a lot like the $600 Adobe Illustrator, which is great if you like Illustrator. But if you are like me and have a long history–but not much love–for using Adobe's Creative Suite, having Serif copy some of Illustrator's more frustrating features is, well, even more frustrating. Take the gradient tool for example: In DrawPlus, changing a radial gradient from the swatch default of grayscale to a color seems impossible without the help of a Google search. Plus, nodes are hard to locate and manipulate with the node tool. Just like Illustrator (albeit at 1/6 the price).
I do like the familiarity of the tool icons though, and it made drawing in DrawPlus quick and easy to pick up. And I especially liked the subtract tool, which is as easy to use as pressing delete to get rid of any part of a picture you don't want, in any shape. The Quickshapes, pen, pencil, and brush tools make it easy to get started with drawing, although after than there's a steep learning curve, especially if you are not an Illustrator master.
There's no way to manipulate your raster images, so if you are looking for software that can seamlessly incorporate doctored photographs or pixels into your artwork, you may want to try Paint.NET, RealWorld Paint (both free), or Xara Designer Pro 7 ($300), all of which allow you to select, blur, fade, brighten, etc. chosen areas of your images.
The artistic brushes in DrawPlus Starter Edition are locked, but even with the upgrade to the full DrawPlus X5 I didn't get the feeling of being a real artist gone digital, like with PD Artist 2 ($79). All in all, it seems that DrawPlus is succeeding at being a top-notch, budget competitor to Illustrator, but at the same time losing sight of the real prize—being a top-notch, niche vector-drawing program.
To get the free Starter Edition of DrawPlus, you have to register and open an account with Serif. It's free and relatively painless, although unless you want to receive email newsletters, special offers, partner offers, and extra special offers, you do have to unsubscribe. In addition, your password is not private—Serif will email it to you for your records.
If you can put up with the frequent popups explaining you're locked out of certain features and need to upgrade to Serif DrawPlus X5, Starter Edition is a good way to try out this Illustrator-like drawing program. If you are looking for a vector design tool and don't want to purchase pricy Illustrator, DrawPlus is a smart option that'll get the job done–just don't expect to use Starter Edition as more than a demo.
–Clare Brandt