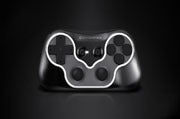 The most unexpected new product in SteelSeries' 2012 line-up aimed at stalwart PC loyalists is undoubtedly the SteelSeries Ion Bluetooth controller, which promises not only to work with PCs but also Android smartphones and tablets.
This makes it ideal for games that use a traditional gamepad layout on the touchscreen. After all, most platformers, first-person shooters, and fighting games (especially ones ported from other game consoles) simply don't handle as well with a touchscreen controller as they do with a physical one.
The Ion hopes to solve your mobile gaming woes with a design similar to the PlayStation Dual Shock controller: Two thumbsticks, a directional pad, four face buttons, and one shoulder button on each side. However, it's significantly smaller than the Dual Shock–at 108mm by 55mm by 18mm, SteelSeries is shooting for a size roughly around a deck of cards. This means it should be relatively easy to carry around. The Ion's built-in battery is advertised to last 20 hours. No pricing information was available at this time, but the company said the Ion would be available in the third quarter of 2012.
While SteelSeries didn't have an Ion unit connected to any games, I was able to play around with the feel of the controller a bit. It's nice and compact and weighs enough to feel sturdy but not burdensome. Even though I have fairly big hands, I didn't have any major problems with the small size of the controller, though I did notice that I had to adjust my grip to hit the shoulder buttons a little bit. The directional pad and thumbsticks felt clicky and responsive, though a little more muted than a conventional gamepad. Since it's meant for on-the-go gaming, SteelSeries tried to minimize the amount of moving parts used in the design.
Headsets
SteelSeries also announced two new additions to its family of headsets. The first new headset is actually a new product line called the Flux, which features a modular design that makes it easier to use the mic on the go or with different devices. The Flux features two audio ports, one on each side, so you can choose which side you want to wear the mic on, and use the second port to daisy-chain another headset to your Flux so someone else can listen to the same audio source–nice for watching movies with someone else on a tablet or laptop. (Note that the mic input isn't passed through on the second headset, just the audio.)
The Flux itself is a travel-friendly collapsible mesh headset, and SteelSeries says it will be able to offer mesh cushions and faceplates in different colors so you can customize it to your preference. Pricing for the SteelSeries Flux will be announced closer to its release in the second quarter of 2012.
In Video: New Gaming Gear From SteelSeries
I liked the fit of the Flux, personally, though I prefer the snug fit of the company's current Siberia Neckband iOS headsets. Still, the Flux is an attractive, versatile headset with some neat style flourishes that may just catch the eye of traveling gamers.
Second, the Siberia v2 line of wired headsets now comes in a new Arctic Blue flavor, which features an active noise-canceling mic that promises to improve your microphone audio quality. It also has built-in decorative LEDs that can be customized to your pleasure in the driver software with six different pulsing modes, including one that responds to the audio you're getting in-game (or music you're listening to). Of course, the new headset also features the same active sound-canceling features of the previous Siberia v2 headsets. No pricing information yet for this headset. It will be available in Q2 2012.
Mice
Finally, SteelSeries added three new gaming mice to the company's entry-level line-up. The Kana ($50), Kinzu v2 ($40), and Kinzu v2 Pro ($45) are meant for gamers who want a minimalist gaming mouse with good construction but not as many bells and whistles as the $99 SteelSeries Sensei, though you can tweak a few options (DPI, polling rate, macros, game-specific profiles, etc.) in the driver software. The Kana is an ambidextrous mouse with a six-button layout, a "tournament-grade" optical sensor that reads at 3600 frames per second and supports movement speeds up to 130 inches per second, two extra-large side buttons, and comes in black and white colors (with matching LED light options).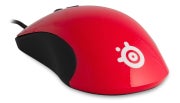 The Kinzu v2 Pro Edition and Kinzu v2 are updates to the SteelSeries existing Kinzu mouse line. Both mice feature an ambidextrous four-button design, including a mouse sensitivity (CPI) toggle switch, and a "tournament-grade" optical sensor that reads at 3600 fps, though the supported stable movement rate is only 65 inches per second instead of the Kana's claimed 130. The Pro Edition uses "tournament-grade" Omron switches for the buttons, and comes in Glossy Black, Metallic Silver, and Metallic Red colors, while the normal Kinzu v2 doesn't use the Omron switches and comes in rubberized black, white, orange, and yellow. All three of the mice are currently available.
Of course, none of these mice match up with the Sensei–and they're not supposed to. Nonetheless, they're solid, no-frills gaming mice with responsive switches and an attractive look. The form factor feels like a smaller Sensei (which itself feels similar to an Intellimouse) and the buttons are all conveniently located and easy to hit, though gamers who rest the mouse in their palms may have to be careful not to accidentally hit the side buttons on the Kana at first.

For more blogs, stories, photos, and video from the nation's largest consumer electronics show, check out PCWorld's complete coverage of CES 2012.