It's been a few months since I last devoted a Hassle-Free to reader questions, and I apologize for being remiss. So this week I help Deborah out with a mysterious DVD drive problem and tell Jim how to tweak Windows Media Player–and you can follow along.
Troubleshoot a DVD Drive That Windows Sees as a CD Drive
Reader Deborah has a Toshiba laptop running Windows 7. A few weeks ago, the system starting treating the DVD-ROM drive as a mere CD-ROM drive. It could play and burn CDs, but wouldn't have anything to do with DVDs.
Deborah says she scanned for viruses, checked for updated drivers, and ran Windows' DVD troubleshooter–all smart steps, but all to no avail.
Here's where it gets weird: "Third-party DVD burning programs all recognize this drive for what it is and it works fine," she says. In other words, the problem is limited to Windows itself.
Here's where it gets weirder: About a week later, the same problem cropped up on Deborah's HP desktop. She tried all the same troubleshooting steps, but in the end was left with two DVD drives that Windows thinks are CD drives.
Now this is a tricky one.
My guess is that either a Windows update or a newly installed (or uninstalled) program corrupted the Windows Registry, hence the OS thinking you've got CD drives while other programs see DVD drives. Very strange that it would happen on two PCs, especially so close together, which is why I think some errant Windows update is what gummed up the works.
Microsoft has a knowledge-base entry and Fix-it tool that may help. I say "may" because the problem described therein doesn't exactly match what Deborah is experiencing. But it's worth a try. (Always, always use System Restore to create a restore point before attempting any fixes like these.)
The good news is that you obviously have third-party software that works, so your hassle is exactly that; it's not interfering with your everyday operation.
Add More Music Locations to Windows Media Player
Reader Jim has a laptop running Windows 7, and wants Windows Media Player to scan the music stored on an external hard drive and add it to his library.
No problem, Jim! But let's make sure to clarify a few things in this setup.
By default, Windows Media Player 12 looks for songs stored in the My Music and Public Music folders. On my system, that would be a problem right from the start, as I typically store my music in a folder called MP3s–one that's not stored in either of the aforementioned locations.
Fortunately, it's pretty easy to tell WMP to look elsewhere for music. Here's how:
Run Windows Media Player. (Note that I'm matching Jim's setup of Windows 7 and Windows Media Player 12.)
Select Organize, Manage libraries, Music.
Click Add, then navigate to the folder you want to add. Click it, and then select Include folder.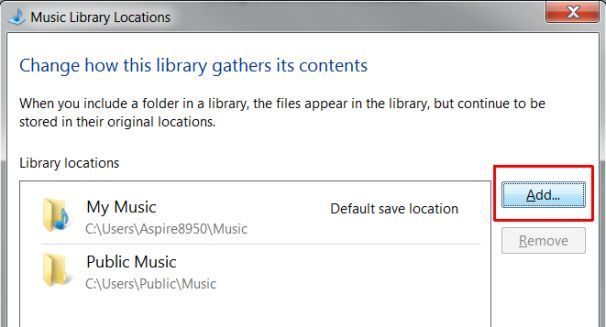 Note those key words: "include folder." What you're telling WMP to do is scan the designated folder, then add those songs to your music library. However, no songs are actually copied or imported anywhere; they stay where they are.
Therefore, while it's no problem to add songs from an external drive, flash drive, network drive, or any other source, you have to make sure that source remains available, otherwise your songs won't play.
In other words, if you tell WMP to scan an external drive and then unplug that drive, you'll lose access to those songs.
The simple fix, of course, is to copy all that music to your laptop's hard drive, then let WMP update its library. If you don't have room, well, you'll have to leave that external drive connected and running.
If you've got a hassle that needs solving, send it my way. I can't promise a response, but I'll definitely read every e-mail I get–and do my best to address at least some of them in the PCWorld Hassle-Free PC blog. My 411: hasslefree@pcworld.com. You can also sign up to have the Hassle-Free PC newsletter e-mailed to you each week.