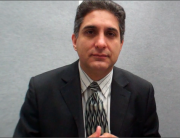 Most networking companies at CES are announcing new 802.11n routers, or even devices that comply with the brand-new 802.11ac standard.
But WiGig Alliance president Ali Sadri is at CES to advocate an even newer wireless standard: Wireless Gigabit. Wireless Gigabit will allow devices–anything from PCs to tablets to TVs–to communicate with each other on the 60GHz spectrum band at theoretical maximum speeds of 7 gigabits per second. Of course, it's uncertain whether this tech will catch on when it's fully certified.
PCWorld asked Sadri a few questions about this infant technology.
PCWorld: So what would a WiGig networking standard actually change for consumers?
Ali Sadri: "In general, we need to associate wireless with mobility. As the capacity of our handheld devices increases, you have more memory, bigger pictures, high-definition pictures. Then, if you want to exchange the content on one device with another device, or transfer or copy it, it can take time–sometimes hours. In terms of speed, the 60GHz band should transmit [data at] up to 7 Gigabits per second.
"Furthermore, in terms of power consumption, WiGig antennas are more efficient than traditional Wi-Fi. When you compare the rate of the two different technologies, transmitting a couple of gigabits per second on WiGig versus a couple of gigabits per second on Wi-Fi, the ratio of the power consumption is conserved by magnitude. In tests, we've seen some numbers like 5-600 milawatts to transmit like 2 gigabits per second.
"The last thing is that we're looking at is Internet connectivity versus exchange of information as a peer to peer. You always want to be connected to the Internet, and that's what Wi-Fi does. At the same time, you want to do massive amount of synchronization, virtualize your device to become your laptop.
"The new standard that we're defining, we're calling it WiGig docking station, which will connect any device to any other device, not necessarily PCs. It could be a handheld device to a TV. "
This year and last year, some of the big products at CES were home entertainment systems. How will WiGig work with these?
"Imagine your television has limited number of HDMI connected, and you have multiple devices that want to simultaneously connect to the television. You have options–connect with multiple cables, connect to a router, or virtually connect it using wireless technology. The other thing is we're using 60GHz frequency where it's completely open, and there's no other interference than the traditional Wi-Fi, and for consumer electronics this will definitely be important."
What are some of the challenges of transmitting data on a 60GHz band?
"Well, challenges, definitely. One of the things are that the perception is that 60Ghz is line-of-sight. But in reality it is not, and in order to expand from a line-of-sight network, you need beam forming. You need more complexity in defining and identifying the best path to transmit and the best path to received, and the challenges have been how to design your antennas."
When WiGig tech is ratified by the IEEE, it'll be considered 802.11ad. But networking companies have already debuted routers on 802.11ac standards at CES 2012. If consumers go out and buy a router that uses "AC" technology this year, will it be worth it for them to buy a WiGig router next year when the specifications are solidified?
Right. Well, we have to look outside of the box a little. If you want to have simultaneous usage of your devices at the same time in an office environment [that are] trying to access your display, there aren't enough frequencies or bandwidth large enough to handle many simultaneous transmissions. In our belief, standard Wi-Fi will be used for access technologies–connecting to the internet. Anything else, you must have WiGig. You must connect on 60Ghz to stay away from the interference with everything else.
Now, is WiGig in a competition? Is it complementary? Obviously, some technologies have some overlaps. But each technology will find its own specific usage. We believe the docking belongs to WiGig. AC will be used for access technology.
When will comsumers be able to access this technology?
A couple of our members are already announcing some early products. Our certification is not done, so we can't call it "WiGig Compliant" yet. Our full certification should be done by the end of this year, so hopefully there will be an early announcement next year at CES and you'll see WiGig present on the floor.