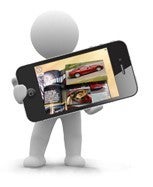 Augmented reality platform Aurasma is bringing 3D characters to your everyday world via your smartphone, the company announced Sunday. Aurasma's app, which is free and available for both iOS and Android devices, already lets you get info about the world around you ("augmenting reality," if you will), and now you can also add 3D characters to that world.
The company showcased its app at Pepcom's Digital Experience Monday evening. The app is pretty easy to use–just download it on your smartphone and open it up. Aurasma uses your phone's camera to take a look at the world around you, and find "Auras" or places/things that have been tagged by people with overlaid images and text.
Users can make their own Auras in the app, by first taking a photo of the item to be overlaid (for example, a photo of a MacBook Air logo):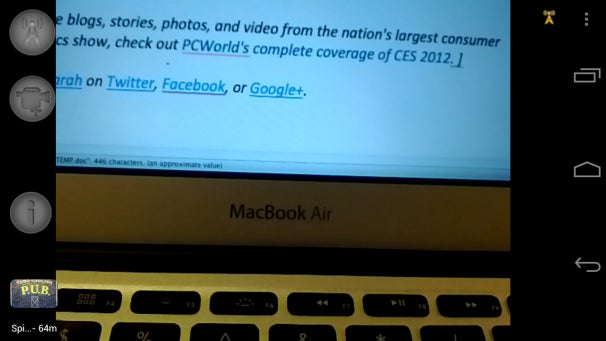 And then choosing an image or animation, either from Aurasma's library or your phone's library, to be overlaid on that image when you focus on it. For example, a Goomba from Super Mario: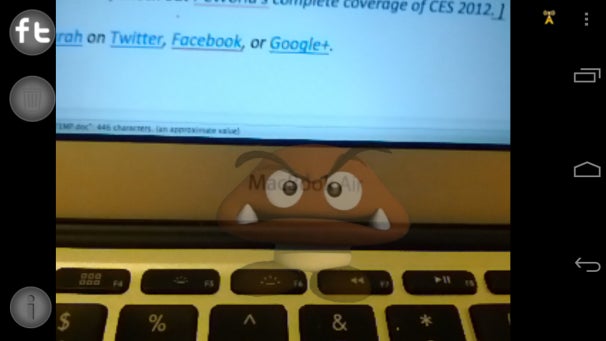 Once your Aura is saved, whenever you focus on that image you will see the Aura you chose to put there. You can share this Aura with your friends so that when they look at the same image they'll see your Aura.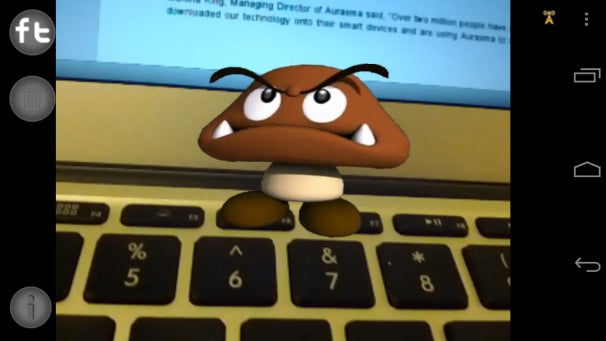 According to an Aurasma representative, Aurasma works in the same way as the human brain works–it's able to associate images with other images and make connections based on those associations. Because our devices are now powerful enough to run software that can actually process raw images–no barcodes, tags, or special notes necessary–Aurasma is able to bring this extra augmented reality functionality to our world.
Though Aurasma isn't perfect–its 3D characters look a little rough, for example–it's definitely worth a look. At the very least, making Auras and sending them to your friends is extremely entertaining.

For more blogs, stories, photos, and video from the nation's largest consumer electronics show, check out PCWorld's complete coverage of CES 2012.
Follow Sarah on Twitter, Facebook, or Google+.
Like this? You might also enjoy…
Get more GeekTech: Twitter – Facebook – RSS | Tip us off