Linux may be enjoying great popularity in the mobile arena, thanks to Android–and even on the desktop, to an increasing extent–but there's no denying its longtime success on servers.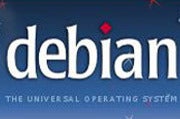 With outstanding stability and security and a compelling total cost of ownership (TCO), Linux's advantages in the server room are hard to beat.
But which Linux distribution is the best one for this purpose? The answer to that question is never simple, and will depend on numerous factors. Still, according to new data from Web research firm W3Techs, the majority of Linux Web servers today run Debian.
'Many Switch to Ubuntu'
Debian is now used by 9.6 percent of all websites, or roughly 29.4 of all Linux-based sites out there, W3Techs reported in a blog post on Monday that analyzed monthly usage data over the past year. That's up from 8.9 percent one year ago, and 8 percent two years ago.
Zeroing in on high-traffic sites, W3Techs found that among the top 1000, Debian is used by 8.5 percent of sites.
W3Techs's surveys focus on the top one million websites as defined by popularity rankings from Alexa. A full 54 of that top million switch to Debian Linux every day, making it the fastest-growing operating system in this arena, W3Techs says.
"This growth comes primarily from websites that are starting to use Linux, because we see in the technology change report that many sites subsequently switch from Debian to the Ubuntu distribution (which is based on Debian)," the report explains.
Debian gains market share primarily from CentOS, SuSE, and Fedora, says W3Tech, whose survey results are depicted in the graph below (click to enlarge).
'Preferences Change Quickly'
While Debian has held the No. 1 spot before, it lost that position in June 2010 to CentOS, which is now second most popular following a close race last year.
Next in order of popularity are Ubuntu, Red Hat, Fedora, SuSE, and Gentoo, as the graph shows. Debian is especially popular in Europe, the report notes, with less usage in Asia and North America.
Of course, popularity rankings are a far cry from prescriptive recommendations, and "preferences of Linux webmasters tend to change relatively quickly," as the report notes.
Still, if nothing else, it's interesting to see the continuing dominance of Debian and CentOS on Web servers–not to mention Ubuntu's steady rise.