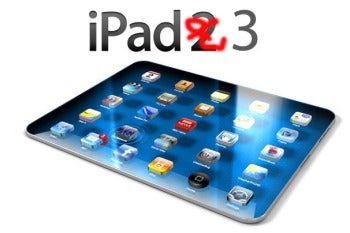 Speculation about the next version of Apple's bestselling tablet has begun to abate somewhat, which means that rumor mongers have more or less reached accord on what they think the next-generation iPad will look like. Here's the consensus.
Display
There's little debate that the iPad 3 will have a drop-dead gorgeous display. Most Apple watchers agree that the 9.7-inch panel will be QXGA quality–2048 by 1536 pixels with 270 pixels per inch–and will carry the "Retina" name. To maintain that level of brightness, the tablet will have to incorporate two LED bars. Current iPads have only one bar. Since a tablet computer isn't much more than a screen, it seems a safe bet that Apple will be taking the iPad 3's display to another level to advance its position as the leader in the tablet market.
Processor
A new processor is also certainly in the cards for the iPad 3. Competing products with very muscular chips will be appearing on the market this year, so the next-generation Apple slate will need more than just a pretty display to stay ahead of the pack nipping at its heels. Though observers agree that the new processor will be called the A-6, opinion diverges on whether it will be a quad-core chip or a souped-up dual-core offering. Since quad-core processors are becoming more and more common in mobile devices, though, it would be a letdown to many people if the iPad 3 turned out to be a dual-core product.
Battery
Better battery life is also expected in the upcoming iPad. One estimate says that the tablet will sport a 14,000 mAh power plant that will deliver twice the battery life of the current iPad model. However, since new features in the iPad 3–dual LED bars, quad-core processor–could demand more power, those battery life estimates may be shaky. Though the rumor mill hasn't focused on this point, there's some speculation that the iPad 3 may have cableless charging.
Cameras
Since Apple's latest iPhone has an 8-megapixel camera, it's only logical to imagine that the latest iPad will have one, too. However, speculators have also raised the possibility that Apple may go with a 5-megapixel camera, which could mean a couple of things. Apple might make a basic iPad 3 with a 5-megapixel rear-facing camera and make an 8-megapixel unit an upgrade option. Or it could sell the iPad 3 with an 8-megapixel rear-facing camera and a 5-megapixel front-facing camera, which would make videoconferencing on the new tablet sparkle. In addition to capturing 8-megapixel still photos, the next-generation iPad is expected to move up to 1080p in HD video.
Form
The final physical shape of the tablet is a fuzzy area for iPad 3 prognosticators. Some say that the third-generation tablet will be thicker to accommodate the extra LED bar; others adhere to historic precedent and insist that Apple products never get thicker, only thinner. Another persistent idea is that Apple will produce an iPad "mini" tablet with a 7.85-inch display, à la Amazon's Kindle Fire. That last possibility seems unlikely, however, because it violates Apple's vision of a tablet as a device for both content creation and content consumption. Though 8-inch tablets are okay for consumption, they're not so good for creation.
Timing and Pricing
The question of timing invites endless theorizing among Apple watchers, but a betting person would be wise to wager on a March or April release.
As divided as rumorists are about the release of the iPad 3, they seem to agree that it will be priced as the iPad 2 is. Less clear to speculators is what will happen to the Apple's second-generation tablet when the new iPad arrives on the scene. Unlike the iPad 1, which has gone to the refurbish bin, some observers say that Apple will continue to be make and sell the iPad 2, albeit at a lower price than it currently carries. That seems to be a more logical course for Apple than producing a cheap "mini" iPad.
Follow freelance technology writer John P. Mello Jr. and Today@PCWorld on Twitter.