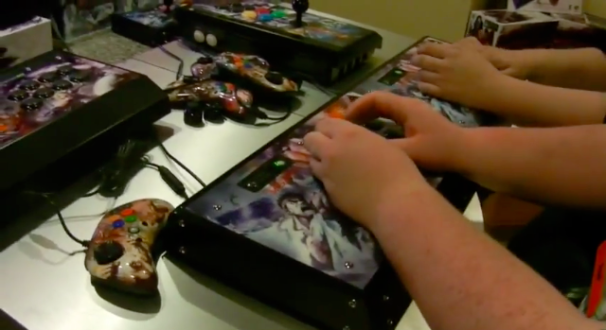 If you're a fighting game enthusiast or a PC gamer craving some spiffy new headsets, Mad Catz might just take your money: Mad Catz is kicking off 2012 with three new FightSticks–high-end arcade stick peripherals for your Xbox 360 or PlayStation 3–as well as a PC gaming headset line that complements last year's Cyborg R.A.T.7 gaming mouse.
The Street Fighter X Tekken FightStick VS ($200) is undeniably the star of Mad Catz's show: It features a sturdy metal frame that feels even stronger (and notably heavier) than the regular FightStick TE model, the same Sanwa buttons and stick as the other FightStick models, and a slightly wider build. What makes the FightStick VS unique is the extra $20 connection kit–a metal plate you can screw into the bottom of two FightStick VSes to connect them together like an old-school side-by-side arcade cabinet setup.
The FightStick VS is sized to match the standard Vewlix arcade cabinet layout, so you won't feel crowded when you're playing next to your buddies. During my hands-on testing, everything felt solid, sensitive, and accurate. The FightStick VS is currently timed to release with Street Fighter X Tekken in July.
Mad Catz is also releasing two more FightStick TE ("Tournament Edition") models, one for Street Fighter X Tekken and one for Soul Calibur V. The Street Fighter X Tekken model features a sloped bezel in the front end of the stick that can be used as an impromptu wrist rest, while the Soul Calibur V model uses a slightly tweaked button layout that matches the orientation used for Soul Calibur V and other Namco fighting games. Both sticks will cost $160.
Mad Catz also showed off a new line of headsets under their Cyborg brand called the Cyborg F.R.E.Q. 5 ($99). The headsets come in black and white versions to complement the black and white models in their Cyborg R.A.T. gaming mouse line. The headsets aren't nearly as tweakable as the R.A.T. mice are, but they do have a few neat features, including a built-in equalizer preset toggle on the headset itself, a removable microphone, and a modular audio cable that can be used with USB ports (for PCs) or 3.5mm headphone jacks (for mobile devices). The black model is available today, and the white model will be available in February.
Patrick Miller covers games, how-tos, and the occasional HDTV for PCWorld. Follow him on Facebook or Twitter.