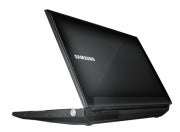 Gamers in North America looking for a high-end gaming laptop may have envied those in Europe, who have been able to purchase Samsung's Series 7 Gamer notebook since last spring. This April, the company will bring the laptop to our shores, and give it a nice boost in specs at the same time.
The big and heavy 17-inch system will retain the outward look and external features of its European version, including the 2.1 speaker setup with down-firing subwoofer, super-bright screen, and big physical knob that switches between power modes (including the "gaming" mode that clocks up the CPU turbo mode, changes the keyboard backlighting, disables the Windows key, etc.).
The only major outward differences will be the lack of a 3D display option, and the addition of a DisplayPort jack.
Inside, the Series 7 Gamer gets a whole new set of parts. Gone is the second-generation Core i7 (Sandy Bridge) processor; it's replaced by a quad core third-generation Core i7 (Ivy Bridge) CPU. The graphics get a jump from the Radeon HD 6970M to the upcoming GeForce GTX 670M. You'll still get a Blu-ray drive and 2TB hard drive.
All this, we're told, will cost a mere $1799 when the system hits shelves in April, or just as soon as those high-end Ivy Bridge chips from Intel and next-gen GPUs from Nvidia are ready to go.

For more blogs, stories, photos, and video from the nation's largest consumer electronics show, check out PCWorld's complete coverage of CES 2012.