A new technology called Aerial 3D by Burton could change the way we watch TV–or how designers, engineers, and scientists model CAD files or DNA strands.
Aerial 3D, in its current state, uses a single laser to project thousands of "plasma dots" in 3D space. By controlling the focal point of the laser, you can control where the plasma dots appear in relation to the laser and the viewer.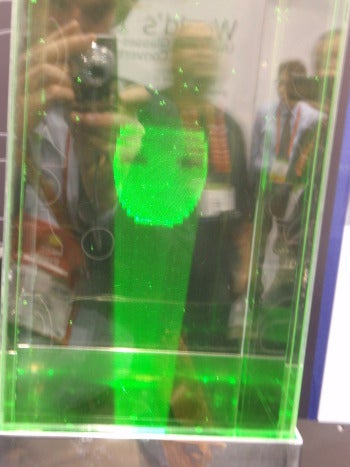 This one laser is able to bounce around in 3D space and project one dot at a time. But because the human eye can only percieve so many images each second, and the laser can project thousands of dots each second, to us it looks like Aerial 3D uses thousands of lasers, with each each projecting a single dot.
According to Burton's Alexis Oyama, Aerial 3D's smaller 20-cubic-centimeters 3D display can project 50 thousand dots per "frame", or hundreds of thousands of dots per second (Burton did not specify how many "frames" per second Aerial 3D displays). And their larger display–up to 5 cubic meters–can project about 1000 dots per second.
This tech can display both 3D images and animations. Burton says that in the future, multiple different color lasers could be combined to create multicolor images.
Check out this video from Burton (WMV format) to see it in action.

For more blogs, stories, photos, and video from the nation's largest consumer electronics show, check out PCWorld's complete coverage of CES 2012.
Follow James Mulroy on Twitter and on StumbleUpon to get the latest in microbe, dinosaur, and death ray news.
Like this? You might also enjoy…
Get more GeekTech: Twitter – Facebook – RSS | Tip us off