Roccat, an up-and-coming PC gaming accessory maker, is bringing its high-end gaming keyboard ("Isku") and mouse ("Kone[+]") to the U.S. market, and their user-friendly, advanced customization features might be the first ones I bother to use.
Confession time: These days, most PC gaming peripherals come absolutely jam-packed with macro keys, recording features, instant profile and sensitivity switches, and other impressive widgets and doodads that sound great when I'm looking for a keyboard. However, when I actually pull my new gear out of the box, I usually plug it in, play around with the drivers for a few minutes, then jump into a game. After all, it takes a while to set up custom layouts and macros for all the games I play, and every minute I spend doing that is a minute I'm not spending owning newbies.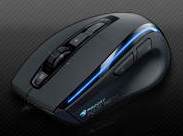 After giving the Isku ($90) and Kone[+] ($80) a spin on the CES 2012 show floor, however, I might just change my mind. Roccat's in-depth customization options and physical design are undoubtedly a product of untold hours of gaming.
For example, the Kone[+] features a DPI-switch function that lets you cycle among five preset mouse sensitivity levels. That isn't anything new, mind you — both the SteelSeries Sensei and the Mad Catz Cyborg R.A.T.7 that I reviewed last year feature similar options. However, both of those mice indicate your DPI with a light on the mouse itself — a light that I'm usually covering with my hand while I'm holding the mouse. Switch the DPI on the Kone[+], however, and the drivers will trigger a voice announcement through your PC audio informing you that you've switched settings, so you don't need to look down at your mouse to see its setting. What's more, you can choose how many presets you want available, so if you only use two presets you won't need to cycle through the other useless three.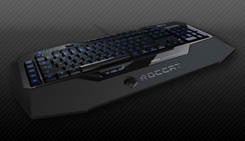 Both the mouse and keyboard offer an in-depth macro editor that lets you record inputs (including recording the delay between keypresses), and an advanced mode that lets you edit the exact timing of each keypress in a timeline similar to a video editing application. The Isku also has an on-the-fly live recording button as well, so you can make your own macros in-game and map them to one of the keyboard's macro buttons.
What's more, the Isku and Kone[+] can actually tap into a few features if you're using both of them. You can map buttons on the keyboard that change the profile or activate the EasyAim feature (which decreases your mouse sensitivity setting while you hold down a button, making it easier to use sniper rifles in first-person shooter games), for instance. It may be a sneaky "set bonus" meant to sell you more gear, but it's still pretty neat.
Other features include customizable timers that give you an audio countdown for the last ten seconds (ideal for checking timing on item respawns in Quake Live or common timing attacks Starcraft 2, for example), "Thumbster" buttons located below the space bar to make your thumb useful for more than just jumping, and an image sensor that can calibrate itself to your mousepad for the best responsiveness possible.
Check back for a full review in the coming weeks!

For more blogs, stories, photos, and video from the nation's largest consumer electronics show, check out PCWorld's complete coverage of CES 2012.