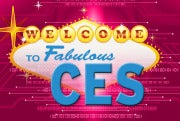 Ever wonder where the bizarre toys in the "As Seen On TV" section of Walgreens come from? Odds are, that clap-activated, Macarena-singing gorilla you bought for laughs came from CES at some point. Whether the vendors are actually selling the stuff themselves or just using it to plug their actual product, there are plenty of weird, eye-catching gizmos strewn across the South Hall of the Las Vegas. Dancing Robot Cat Nothing sells miniature cameras like robotic cats dancing to "Ring of Fire". These capering kittens are actually sold by U.K.-based novelty store Thumbs Up. All you need are three AA batteries and an audio device with a headphone jack, and your cat will boogie. Personally, I'll stick to my real cats–though these three are undoubtedly easier to clean up after. Robot Baby Seal Our robot animal theme continues with the Paro, a robot baby seal designed in Japan (where else)? Paro is no gimmick, though–its behavior is modeled after an actual baby seal, and it sells for about $7000. That's because it's designed for therapeutic uses; with a Paro, a hospital or nursing home could enjoy the same therapeutic benefits of a cat or dog for the patients or residents without the associated mess. Dancing Vacuum
The Deebot is apparently the first robot vacuum to sing and dance. We believe it. Unfortunately, there was no model on demonstration, so there's no word on whether this "gentlemanly" vacuum will open doors for all ladies or prefer blondes. On the other hand, he is vacuuming for you, which is nice. The Coolest Work Chair Ever
This space-age "integrated work environment" is called the Emperor, and it looks like a cross between a La-Z-Boy and an Aeron office chair. It also, coincidentally, looks like it's ending up on my Christmas list. It comes with three displays built into that overhead section, and you can set up your keyboard and mouse on adjustable trays in front of you. All that will cost you about $6200, though if that's not baller enough for you, you can opt for the deluxe model with a touchscreen control panel and an air-filtration system for a cool $44,000. We'll be keeping an eye out for more weird stuff from the show floor today and tomorrow, so check back regularly.

For more blogs, stories, photos, and video from the nation's largest consumer electronics show, check out PCWorld's complete coverage of CES 2012.
Note: When you purchase something after clicking links in our articles, we may earn a small commission. Read our affiliate link policy for more details.