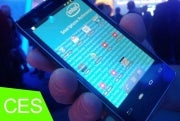 Intel's booth at CES is always a great place to get a peek into the future of personal computing. At this year's CES, Intel had the several Android prototypes that were running on 32mm Intel Atom processors. These are the first Android phones that we've seen to be running on intel's architecture, and the tech giant was using the prototypes to demonstrate the benefits of Atom over other mobile processors.
The actual hardware on display at the booth was a developer device that is never coming to market. The prototypes were all running Android 2.3 (Gingerbread), and came loaded with software that was meant to show off the capabilities of Intel's mobile chipset. In my hands on with the prototypes, I was surprised by how fast and fluid the phones' performed. Asphalt 6, a game that normally stutters on dual-core phones, had no issues running on the single-core Atom.
[Read-CES 2012: The Hottest Smartphones]
Along with increased gaming performance, Intel claimed that the Atom processor would support hyper-threading (for more efficient management of resources) and would help with conserving battery life. Intel claimed that the prototypes had a battery life of about 6 hours while playing video, however I had no way of testing that claim with just my short time with the phone.
I asked if the Atom processor would only work with Gingerbread, to which Intel replied that they would be working hard to support Ice Cream Sandwich and all future versions of the OS. Unfortunately, Intel still has more testing to do and gave me no real time frame for when we would start seeing the first Intel powered Android phones.

For more blogs, stories, photos, and video from the nation's largest consumer electronics show, check out PCWorld's complete coverage of CES 2012.