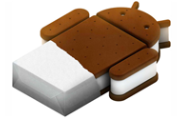 We saw lots of great new smartphones and mobile technology at this year's CES: prototype Android smartphones with Atom processors inside, new LTE phones all over the place, phones with screens that rival the iPhone's Retina display, and high-megapixel phone cameras, to name a few highlights.
But two key technologies were almost nowhere to be found: Ice Cream Sandwich and phones equipped with near-field communication (NFC).
No Ice Cream In The Desert
Google first introduced Ice Cream Sandwich back in October, but Google didn't release it to developers until the Galaxy Nexus shipped in Europe a month later. Many phone manufactures made promises to release Ice Cream Sandwich updates for their their then-current line-up of phones that would roll out shortly after Ice Cream Sandwich launched. As of this writing, only the Nexus S (a handset that Samsung developed in conjunction with Google) has gotten an update for Ice Cream Sandwich.
CES brought more promises, but Ice Cream Sandwich phones were few and far between. Almost all of the new phones coming to US carriers in 2012 will ship with Android 2.3 (Gingerbread). These aren't devices that are coming in the next few weeks, mind you; Many of them won't make their way into stores until around the middle of 2012. That means if you want the latest version of Android–and all the improvements and bug fixes it brings along–you'll either have to track down a Galaxy Nexus or Nexus S, or hope that your current phone gets the update.
Why The Long Wait?
Ice Cream Sandwich's slow pickup rate is largely due to the fact that phone makers and carriers are still not through testing how Ice Cream Sandwich will run on their phones. Manufacturers like Samsung and HTC want to make sure Ice Cream Sandwich will run well on both their new and current smartphone offerings before they release updates. And these companies will also want to make sure that the custom overlays and software bundled with their phones will be compatible with Ice Cream Sandwich before rolling out updates to customers.
Google complicated matters a bit by forcing vendors to include Holo–Ice Cream Sandwich's default theme and interface–if they want to include the Android Market on their phones. In the long run, this is supposed to help reduce fragmentation issues on the OS, but it also means that vendors have to go back and re-tool their custom software to comply with this mandate.
Once the manufacturers finish their testing, then it's the carriers' turn. Carriers have to check that the device will still work on their network once it's been upgraded, and sometimes they have to issue updates to adjust a phone's baseband (a piece of software that talks to the network so you can actually use your phone). It's entirely possible that Ice Cream Sandwich is currently at the carrier stage of testing, and that once the carriers approve Ice Cream Sandwich, we'll begin to see a lot more phones that come with it preinstalled.
Where's All The NFC Stuff?
Google raised a big hubbub last year when it launched Google Wallet, the company's NFC-based payment system. However, outside of a few select handsets, most smartphones still lack NFC capabilities. Even here at CES, we've seen only three new NFC-equipped phones that will be available in the U.S.: The Sony Xperia Ion, the LG Viper, and the Sprint version of the Samsung Galaxy Nexus.
At the moment, only Samsung, LG, and Sony seem to be doing anything with the technology, while Motorola and HTC have told me that they are waiting to see how well carriers will support NFC in the future.
App developers also seem to be playing the waiting game, holding back from creating NFC-enabled software until it gains more momentum in the mobile market. Out of the major app studios, only Rovio puts NFC to use in its apps–though only in the Symbian version of Angry Birds.
Meanwhile, payment services seem split on whether to get behind NFC. MasterCard, Visa, and VeriFone have all come out in support of NFC. While not all of these companies are fully on board with Google Wallet, the companies I have spoken to still believe that NFC can help make it faster and easier for people to make purchases.
On the other side of things are Paypal and Square. Paypal, one of the largest online payment services in the world, has said that there aren't enough NFC equipped phones to make supporting the technology worthwhile. And at the 2011 GigaOm Mobilize conference, Square's COO Keith Rabois said that there is no value in NFC, and that it has no real purpose.
Judging from this year's CES showing, it looks like Rabois may be right: In a land where processor speeds and screen resolutions are king, NFC is not a high priority among device makers.
A Glimmer of Hope?
While snapping some pictures of the Xperia Ion, I noticed several Xperia-branded disks (pictured above) sitting on the counter at Sony's booth. A Sony spokesperson told me that those chips are NFC enabled "Smart Tags" that can be used to automate everyday tasks simply by tapping them with an NFC enabled phone.
They looked cool and were useful enough that it raised my hopes a bit for the future of NFC on phones. Whereas people seem hesitant to carry payment information on their phones (and understandingly so), NFC-equipped gadgets like the Smart Tags could go a long way toward helping us get more accustomed to using NFC without fear that someone could steal our personal financial information.
Forever Waiting
NFC still has a long way to go before it becomes a widely accepted technology. Mobile payments show that NFC can be useful, but people still need to get comfortable with the idea of using their phones in the place of their credit cards–which could take a few more years. Ice Cream Sandwich is a much closer reality, though: Many phones will eventually get Ice Cream Sandwich, it will just take some time. Who knows? By the time you read this, your phone could be updated to Ice Cream Sandwich.

For more blogs, stories, photos, and video from the nation's largest consumer electronics show, check out PCWorld's complete coverage of CES 2012.