Get ready for a perfect storm of earnings news. With tech bellwethers including IBM, Microsoft, Intel and Google set to issue financial reports next week, earnings season will pick up in earnest and judging from recent forecasts and profit warnings, it could be a bumpy ride.
Both IDC and Gartner this week reported that fourth-quarter PC sales slipped from a year earlier. Though the software sector is widely expected to do better than hardware this year, a weak PC market affects not only chip makers like Intel, but software makers whose revenue depends to some degree on sales of applications on new PCs.
"While economic uncertainty in Western Europe had an effect on consumer PC shipments, expectations of a healthier economic outlook in North America could not stimulate consumer PC demand in that region," said Mikako Kitagawa, principal analyst at Gartner , in the company's report on quarterly PC sales Thursday. "The healthy professional PC market as well as growth in emerging markets could not compensate for the weaknesses in mature markets, with overall growth still negative."
Worldwide PC shipments totaled 92.2 million units in the fourth quarter of 2011, a 1.4 percent decline from the fourth quarter of 2010, according to Gartner.
On its part, IDC Wednesday also said that sales of personal computers slowed in the last three months of 2011, due to a weak economy, scarce hard drives as a results of flooding in Thailand and the competition from tablets. According to IDC's calculations, global PC shipments totaled 92.7 million in the fourth quarter of 2011, down 0.1 percent compared with the same quarter in 2010.
Intel in part blamed supply disruptions from the flooding in Thailand when it issued an earnings warning last month. The company forecast fourth-quarter sales of US$13.7 billion, plus or minus $300 million. Its previous estimate was for $14.7 billion, within a range of $500 million.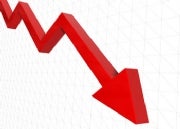 But earnings warnings have not been the sole province of hardware and components makers lately. Juniper Networks, for example, said Monday that its fourth quarter 2011 results will be softer than expected due to a weakening in demand for carrier routers. Juniper said revenue for the quarter is now expected to be in the range of $1.11 billion to $1.12 billion, compared to the company's previous forecast of $1.16 billion to $1.22 billion.
Philips Electronics also warned about weak fourth-quarter profits, in its case due to soft European consumer markets. The company, Europe's biggest consumer electronics maker, said earnings will decrease to about €500 million (US$638 million) from €910 million a year earlier.
"Our expected fourth-quarter financial results have been affected by the weakness in Europe, which has impacted our healthcare business, as well as pricing in our consumer lighting business," said CEO Frans van Houten.
Slowing demand in Europe was also responsible for the cut in revenue growth forecasts from Indian outsourcing giant Infosys. On Thursday, Infosys said revenue growth for the year would be 16.4 percent, down from the 17.1 percent to 19.1 percent it had projected in October.
While economic indicators in the U.S. appear to be looking up, the outlook for Europe, plagued by a sovereign debt crisis, is still dim, said Ashok Vemuri, member of the board and head of Americas at Infosys.
Despite the gloom that appears to be settling in, there were some bright spots this week.
On Friday, for example, SAP issued preliminary fourth-quarter results, reporting revenue would rise 11 percent to €4.5 billion. Results will be aided by a cut in money set aside to deal with a lawsuit Oracle filed against SAP and its former subsidiary TomorrowNow. The judge in the case overturned the $1.3 billion jury award to Oracle, giving Oracle the choice of accepting $272 million or undergoing a new trial.
But growth is mainly coming from SAP's core applications business and momentum for analytics and mobile applications, the company said.
Software is likely to be the engine of growth for the global IT industry this year. Software, accounting for about 25 percent of total IT spending, is the largest category of spending, according to Forrester.
Nevertheless 2012 will shape up to be a relatively down year for IT, according to analysts. Forrester projects a slowdown in the global IT market growth, from 9.6 percent in 2011 to 5.4 percent, totaling $2.1 trillion in 2012.
Still, that's likely to be more than twice the U.S. GDP (gross domestic product) growth this year. So while IT spending slows, the tech sector is still likely to be a beacon of light in a troubled world economy.
Market news Friday morning appeared to be a sort of microcosm of what economy watchers might expect over the next month or so. All major indexes were down after earnings fell at JPMorgan Chase, the U.S.'s largest bank. In addition, reports swirled that Standard & Poor's would downgrade ratings on several governments in the Euro zone because of problems created by high borrowing costs.
Through Thursday, the Nasdaq computer index was up 4.43 percent since the first trading day of the year. But the gloomy sentiment on the markets did not spare the tech sector Frdiay morning. The Nasdaq computer companies were down by 0.88 percent as of late morning trading.