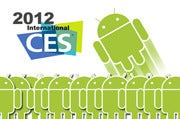 Google's Android operating system played a big role in the 2012 Consumer Electronics Show, appearing in smartphones, tablets, televisions, MP3 players, cameras, and gaming headsets. Device manufacturers are using Android for a wide variety of devices as part of a larger strategy to create a network of connected gadgets backed up by online storage and sync.
Acer and Lenovo used CES to announce their new cloud services, with both companies relying on Android devices for at least part of their vision. Lenovo went as far as to say it is reimagining itself as a "personal cloud solution provider" where hardware, software, and online services tie together all your data.
Google Executive Chairman Eric Schmidt was also on hand at CES discussing Android, and shared a bit of Google's vision how Android devices may help you in the future. "As you arrive at your house with your Android device," Schmidt said, "all the things that have computers in [them], sort of adjust as necessary . . . a text comes to you and it goes to the television, because that's your preference." Schmidt also remarked that some home appliances are also using Android including refrigerators, such as the $3500 Samsung RF4289HARS.
No home appliances make this list, but here are some highlights from the Android invasion at CES 2012.
Smartphones
Numerous Android smartphones can be found at CES, such as Motorola's Droid 4, the Lenovo S2, the Pantech Burst, the ultrathin Huawei P1 S, and Sony Ericsson's Xperia Ion. But two of the most interesting Android phones are the LG Spectrum and the massive Samsung Galaxy Note. Both run Android 2.3 (Gingerbread), but an upgrade to Android 4.0 (Ice Cream Sandwich) is expected for both devices later this year.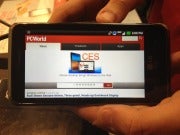 The LG Spectrum features a 4.5-inch IPS display with 1280-by-720 resolution and 329 pixels per inch. Under the hood, the Spectrum includes a dual-core 1.5Ghz processor, 1GB RAM, 2GB onboard storage, microSD card slot with 16GB card preinstalled, 8-megapixel rear-facing camera, and 2-megapixel front-facing camera. The LG Spectrum lands on Verizon's LTE network on January 19 for $199 with a new two-year contract.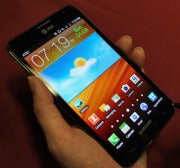 Samsung's Galaxy Note is finally headed to the U.S. on AT&T in the coming months featuring an eye-popping 5.3-inch Super AMOLED display with 1280-by-800 resolution, 1.4GHz dual-core processor, 8-megapixel rear-facing camera with 1080p video capture at 24 to 30 frames per second, 2-megapixel front-facing camera, 16GB onboard storage, and a microSD slot supporting up to 32GB. The Galaxy Note also comes with a stylus for note taking on the pad-sized screen.
Tablets
One-panel touch slates running Android comprise another big category at CES, with devices from Acer, Asus, Samsung, and Toshiba.
An interesting contender from Pantech is a Honeycomb tablet that you can risk taking to the bath or a swimming pool.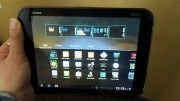 The water-resistant Pantech Element features an 8-inch display with 1024-by-768 resolution, dual-core 1.5GHz Snapdragon processor, 1GB RAM, 16GB onboard storage, 5-megapixel rear-facing camera, 2-megapixel front-facing camera, HDMI out, and LTE connectivity; it runs Android 3.2. You can submerge the Element in up to 3.28 feet of water for 30 minutes without worrying about destroying the device, as long as you have the device's ports covered up. The Element will be available via AT&T on January 22 priced at $300 with a new two-year contract. Pantech says the Element can run Ice Cream Sandwich but has not released a timeline for any upgrades.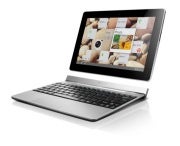 Lenovo unveiled the quad-core IdeaTab K2 tablet at CES featuring a Tegra 3 processor, Android 4.0 (Ice Cream Sandwich), 10-inch display with 1280-by-800 resolution, HDMI out, up to 2GB RAM, up to 64GB onboard storage, and LTE connectivity. The device can be paired with a keyboard dock for a laptop-like experience. No U.S. launch date was announced.
SmartGoggles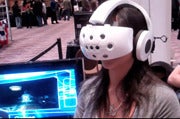 Head-mounted display maker Sensics is showing off its 3D SmartGoggles headset at CES. The Android device offers 360-degree gaming views and can pair with a console, tablet, smartphone, or PC.
PCWorld was on hand to try out the headset, and came away unimpressed. Setting aside the $23,000 price tag, writer Sarah Jacobsson-Purewal said the 3D graphics were terrible and the headset was very heavy.
Televisions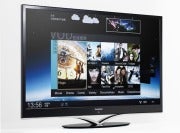 A number of manufacturers announced HDTVs running Google TV, the search giant's recently revamped software that merges broadcast television and web-based video.
But Lenovo surprised many with its K91 Smart TV running Ice Cream Sandwich. The K91 will come in 42- and 55-inch sizes with a 3D LED display, dual-core 1.5GHz processor, 1 GB RAM, and 8GB onboard storage. Lenovo's new set can also access Lenovo's cloud services for access to your own data. The company has yet to announce a U.S. launch date.
Polaroid
Every device maker is putting cameras in smartphones and tablets, so Polaroid is taking an alternate approach by putting a smartphone inside a camera. The Polaroid SC1630 Smart Camera is a 16-megapixel camera with 3x optical zoom, 18 scene modes, 3.2-inch display with 800-by-400 resolution, 512MB RAM, 512MB onboard storage, microSD card slot supporting up to 32GB, and a micro SIM slot. The camera is running Android and has access to the Android market.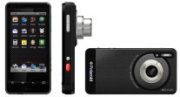 There's no word on which version of Android the device runs, but Polaroid hopes it will be sporting Ice Cream Sandwich at launch. Polaroid's smart camera is a little on the chunky side at 0.73-inch thick. The iPhone 4S, by comparison, is 0.37-inch thick. The SC1630 is set to launch around April for $300. Polaroid hasn't revealed information on a carrier for the device's phone capabilities or whether an unlocked version will be available; technical specs for the camera are also subject to change.
That's a quick look at some of the Android devices headed your way in 2012.
PCWorld contributor Albert Filice contributed to this report.
Connect with Ian Paul (@ianpaul) on Twitter and Google+, and with Today@PCWorld on Twitter for the latest tech news and analysis.

For more blogs, stories, photos, and video from the nation's largest consumer electronics show, check out
PCWorld's complete coverage of CES 2012
.