In December, PCWorld posted a major story about the tech amenities available to travelers in America's airports ("20 Best U.S. Airports for Tech Travelers"). In it we focused on the airports themselves, but often airlines are responsible for driving the installation of new tech amenities in gate areas. The airlines know that electrical outlets, work desks, and zippy Wi-Fi can influence passengers' decisions to fly with Airline A or with Airline B.
As a result, some airlines have become deeply involved in making their gate areas a more welcoming place for laptop and smartphone users. Others have focused on developing apps and mobile websites, and offering in-flight Wi-Fi service in their planes. Not surprisingly, some airlines are more progressive than others when it comes to techy stuff. Here's how the U.S. airlines stack up. (See a ranked chart of the top 10 U.S. airlines, comparing their features.)
1. Delta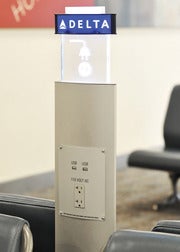 Delta has upgraded about 20 of the airports where it operates with Delta-branded charging stations. Those stations have made a huge difference in the number of available outlets and USB ports at the gates. And Delta's iPad installations at New York's JFK and LaGuardia airports, and (soon) at Minneapolis-St. Paul International are truly impressive.
Delta's tech focus doesn't stop at the gate. All of its large domestic aircraft now offer Gogo Wi-Fi on board. The carrier is looking for a way to outfit its 250 international aircraft with Wi-Fi, too, since Gogo's ground-based service can't reach beyond 100 miles offshore.
Aside from the usual array of features (flight updates, mobile boarding passes, seat maps, and so on), Delta's Fly Delta mobile app offers capabilities that most other airline apps don't–such as the ability to track your checked bag by scanning your bag tag with your smartphone. User reviews of Fly Delta in app stores are generally positive, though the app does lose a few points for not letting the user book new flights; you can use it only to change existing reservations.
Delta also has the strongest presence of any airline on both Twitter and Facebook. The company allows customers to book travel directly from Facebook, and it offers the @deltaassist hashtag on Twitter for people who encounter support issues. Delta's "social media lab" is peopled by regular customer service reps who watch for Delta customers tweeting about problems or annoyances, and then provide support in real time over Twitter or other channels if necessary.
Delta says that its social networking efforts pay off both financially and in customer loyalty. "We want to engage with our customers with our digital channels as much as possible," says Delta's vice president of e-commerce Bob Kupbens. "We feel it's a great way to improve customer service. It's a way for us to get people out of line and off the phone, which is good for the customer and good for Delta."
2. Alaska
Though Alaska itself doesn't have any branded tech amenities in its terminals, the airline operates in airport terminals that have a high density of outlets and Internet kiosks. The fact that the airline shares many terminals and concourses with Delta (an airline that invests in charging stations at the gates it serves) helps Alaska out a lot. But the airline is tech-conscious itself, as evidenced by its well-maintained and interactive Facebook and Twitter pages. Alaska often reaches out to customers via Twitter; but it also posts new content, which makes following the airline on Twitter worthwhile.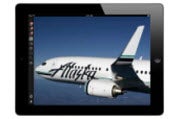 Surprisingly, Alaska Air has a fairly functional app, called the Travel App, that lets you change your seat assignment, add notes about your hotel and car rental, and check into your flight. The app also supports mobile boarding passes at select airports. One drawback is that you can't use the same reservation to check in multiple travelers, so it's not ideal for family use.
Alaska has been the most progressive U.S. airline at making onboard Wi-Fi available. Today, some 92 percent of the planes in Alaska's fleet have Wi-Fi service installed.
3. Virgin America
Virgin America is a tiny airline that beat out largerr rivals in our rankings by keeping its passengers connected while they wait for a flight, and while in-flight.
In about half of the terminals that Virgin services, the outlet densities are higher than the average for the airport as a whole.

All Virgin planes have onboard Wi-Fi, and the company is transitioning from Gogo (ground-based) to a satellite-based service. The size of the company's fleet will reach 57 aircraft in 2013, and all planes will be equipped with this technology. Virgin recently partnered with Google to lend Google Chromebooks to passengers 10 minutes before boarding, so they can take advantage of free Wi-Fi during the flight.
Conversation on Virgin America's Facebook is a bit of a one-way street, as the airline doesn't seem to respond to user's comments in that forum; but overall it scored very well for use of social media.
4. American Airlines
American has a high density of outlets in its terminals, but it doesn't offer much in the way of Internet kiosks, work desks, or other branded amenities. The carrier does, however, respond to Twitter followers who have complaints, so American earned high rankings in our social media scores.
Unlike other airline apps, the AA Mobile app lets you book flights through it. It also supports mobile boarding passes, parking reminders, push notifications, and details of your upcoming flights (including terminal maps). Unfortunately, mixed user feedback prevents the app from being a winner; apparently, it loses boarding passes, and certain pages generate error messages.
Onboard Wi-Fi is limited to 30 percent of American Airlines flights. However, customers can stream content (such as onboard movies, TV, and music) to their wireless devices while in flight–an especially welcome option given that many American flights don't have seatback monitors.
5. Southwest
Southwest earned high marks for the number of outlets, USB ports, and work surfaces at its gates; but its overall ranking suffered from the company's relatively low level of available onboard Wi-Fi and its buggy app.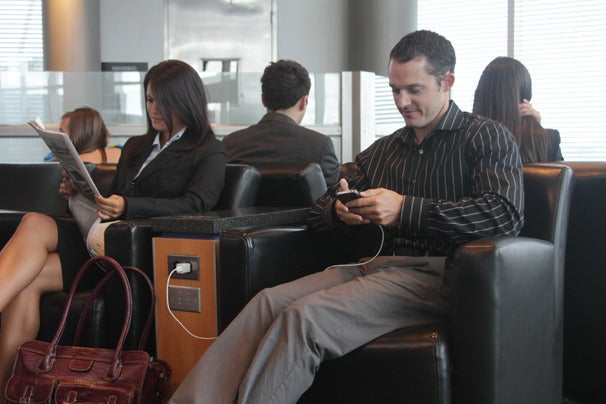 At Southwest gates around the country small recharge stations situated between two comfortable chairs are commonplace, as are high worktables with outlets and stools.
Though only 19 percent (105 out of 550) of Southwest's planes now have Wi-Fi service, the airline plans to outfit its entire fleet with Wi-Fi by early 2013.
The Dallas-based airline has released its own mobile app for passengers, which it says its customers widely use for booking flights checking in. But the app has drawn user criticism in the app stores for being slow and buggy, and for having a clumsy user interface.
Nevertheless, Southwest seems to have a grip on its social media channels. The airline's Facebook and Twitter accounts are content-rich, and its customer service personnel reportedly monitor the networks for complaints and questions.
6. United/Continental
United had no gate-side tech amenities to speak of, but the airline did have a higher-than-average outlet count in the terminals it serviced at the airports we evaluated. If you're looking to complete some work as you wait for your flight, however, you might want to rethink booking United: It had a much lower-than-average count of work desks at its gates (we defined a work desk as a table with a chair and an outlet).
The United Airlines app has numerous features. You can book flights, gain access to airport maps, and get information, and the app offers Mobile Boarding Passes, too. The app's rating would be higher if the user feedback it has elicited were a little higher. Users have noted occasional problems with push notifications, logging upcoming flights (for Mileage Plus members), and outdated gate information.
United's Facebook page wasn't very impressive either–allowing customers to post on its wall, but offering no responses and providing no new information for passengers.
Worse still, Wi-Fi is available on only 2 percent of United's flights–the lowest percentage in our test group apart from JetBlue, which has no Wi-Fi at all. United has a large fleet to upgrade, but the company plans to extend Wi-Fi to all planes by 2015.
7. US Airways
US Airways ranked poorly in our scoring of tech at airport gates, because it offered below-average numbers of outlets, work desks, and Internet kiosks.
US Airways doesn't have a standalone app, but the carrier does support mobile boarding passes in select airports. In addition, US Airways maintains an active Facebook and Twitter presence, so it scored well in social media activity.
The airline offers Wi-Fi on only 17 percent of its planes, but it plans to expand those offerings.
8. Frontier Airlines
Frontier ranked below average in number of outlets, work desks, and Internet kiosks for its passengers. On the other hand, it does a great job of staying on top of social media–and not just because of the cute animals it features as its Facebook and Twitter profile pictures. Frontier regularly updates flight deal offers, it keeps passengers updated on services through its social outlets, and its offers links for customers to use in submitting complaints if they feel that they've had poor service.
Frontier Airlines has no app and no designated mobile site, but 35 percent of its planes provide Wi-Fi service.
9. AirTran
At its gates in the 40 busiest airports, where we did our research, AirTran offered few amenities for tech-conscious travelers. It also has almost no social media presence to speak of. The airline usually offers very cheap fares, so passengers should weigh the trade-off. One significant plus: The airline offers onboard Wi-Fi on all of its planes.
10. JetBlue
JetBlue's spokespeople say that the airline has been conducting research into outfitting its passengers with more tech amenities; but as of fall 2011, our field research indicated that it had not made significant improvements to the gates it services. The airline was about average in this area, compared to other airlines.
JetBlue did earn a very high social media score. It doesn't do a great job of responding to user complaints via the social networks, but it does post regularly and allow user comments both positive and negative.
JetBlue currently lacks a separate app and onboard Wi-Fi, but the airline has partnered with ViaSat to provide Wi-Fi on all 160 aircraft in its fleet. The new Wi-Fi service will start appearing in 2012, according to the airline.