Windows users have many reasons for wanting to download and check out the Linux operating system, whether it's to get a more secure environment to use for online banking, for example, or to get a full-blown Windows replacement.
Linux's advantages are undoubtedly many, but whatever the user's focus, it's traditionally been a matter of some searching and surfing to research, choose, find, and download the best Linux distribution for the purpose at hand.
Now there's an alternative. Get Linux is a free new tool released early this month for Windows users that offers a one-stop shop for more than 100 Linux distributions.
A 'Software Center' for Linux Distros
Aiming to provide a "Software Center" for Linux, Get Linux is an open-source software project from Dev-Fire that's licensed under GPL v. 3.0. In essence, the new tool gives Windows users an easy way to learn about and download numerous Linux distributions from a single, central place.
Users of Get Linux can either search for a particular distribution, or they can browse to learn more about what's out there.
For a specific distro, they simply select the name of the Linux flavor they want and indicate any accompanying specifics, such as whether they need a 32-bit or a 64-bit build. Get Linux then accesses and downloads the most up-to-date .iso file for the operating system in question, saving users the need to manually search for and download the file themselves from the distribution's own site.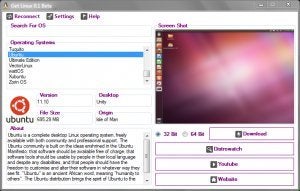 For browsing purposes, meanwhile, users can look through the 100-plus versions of Linux included in the tool and click on those that look interesting. Get Linux then offers a description along with screenshots and relevant links, as shown in the screenshot on the left.
Less Than 1MB in Size
It's not so much that it's difficult to find the right links or to download Linux distributions yourself using traditional means, but I think Get Linux performs a useful service by offering direct access to so many of them from one place.
Get Linux is available as a free download from Sourceforge, and it's less than 1MB in size. Particularly if you're in the process of shopping around for a Linux distribution and want to take one or more of them for a test drive, this could be a tool to check out.