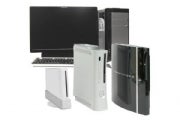 Gamers have plenty of hot new accessories to choose from.
The best of the best new mice and keyboards, headsets and console controllers were on display at CES 2012.
Here's a rundown to help you know what to buy when you shop.
Razer Naga Hex
($80, Available in February) – Multiplayer Online Battle Arena (MOBA) games like Defense of the Ancients and League of Legends are big these days, which means we're going to start seeing peripherals designed for the hardcore fans — and the Razer Naga Hex is the first one we've seen so far.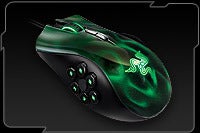 Its design harkens back to the original Razer Naga, an MMORPG mouse that featured a full 12-button keypad where the thumb rests. Instead of a full keypad, the Hex has six larger thumb buttons in a hexagonal shape, which is an ideal layout for MOBA players and is much easier to use than the original Naga. The Hex's easy-to-use button layout and slick design makes you want to give it a try.
Mad Catz Street Fighter X Tekken FightStick VS
($200, Shipping in July) – Mad Catz announced its first high-end console arcade stick at CES 2008, so it's only fitting that it come back three years later with a new premium stick for the fighting gamer who already has everything.

The Street Fighter X Tekken FightStick VS is built with a rock-solid metal chassis and arcade-perfect Sanwa Denshi buttons and stick, comes in two designs, and an extra $20 connection kit lets you screw two units together in a side-by-side configuration that mimics the current Vewlix arcade standard dimensions. It also features a modular front panel that owners can unscrew and slide custom images in to personalize their stick further. It could make a nice living room centerpiece.
SteelSeries Flux Headsets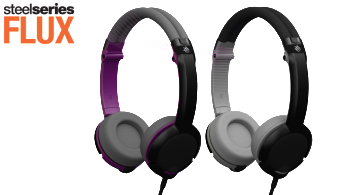 (Price to be announced, shipping, Q2 2012) – Gaming headsets are all well and good, but even the most dedicated gamers probably won't want to lug their dedicated PC headset around when they travel.
Enter the SteelSeries Flux, a small, readily foldable headset with a detachable mic that works with PCs as well as iOS and Android–perfect for gaming, listening to music, or watching movies on the go. Perhaps the coolest feature is the second audio port, which lets you daisy-chain another headset so two people can listen to the same tunes or watch a movie together on a laptop or tablet. You can also swap out the faceplates and mesh pads out for differently-colored models to make it look the way you want it to.
Hyperkin Supaboy Game Console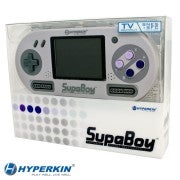 ($100, available now) – If you're one of the lucky few who was smart enough to keep your old Super Nintendo carts, the Supaboy is for you.
It's basically a portable SNES designed to accept full-sized Super Nintendo carts, except it also has two SNES controller ports and a TV-out port, so you can go from on-the-go Mario Kart to your home HDTV without even stopping to pause. It's not small — the whole unit is probably close to an old Sega Game Gear in size and weight — but for old-school gamers who refuse to play their childhood favorites on an emulator, the Supaboy is undoubtedly the way to go.
Roccat Isku Gaming Keyboard and Kone[+] Mouse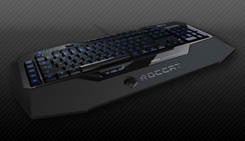 ($90 and $80, Shipping in February) – German gaming peripheral manufacturer Roccat is relatively new to gamers in the U.S., but their Isku gaming keyboard just might get them in the door this year.
In addition to the standard range of high-end keyboard features like remappable media keys and robust macro recording, the Isku also lets you activate shared features with the Kone[+] mouse, like the EasyAim feature that temporarily switches you to a lower DPI so you can easily control your zoomed-in shots. My favorite feature, however, is the three buttons below the space bar that let your thumb do more than mash on the space bar to jump.

For more blogs, stories, photos, and video from the nation's largest consumer electronics show, check out PCWorld's complete coverage of CES 2012.