Attempts by a copyright troll to overturn two "fair use" decisions against it were opposed in federal appeals court Friday by such prominent voices as the Electronic Frontier Foundation (EFF), Google, Public Knowledge, and the Digital Media Law Project at Harvard University.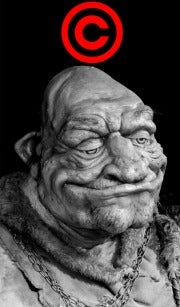 In two cases before the court in Nevada, Righthaven, a law firm that specializes in the kind of high volume copyright litigation known as trolling, is trying to overturn lower court actions that are preventing the firm from going to trial with its lawsuits.
"These cases should never have been filed in the first place," EFF Senior Staff Attorney Kurt Opsahl, who worked on both "friend of the court" briefs filed in the cases by the foundation, said in a statement.
"They are based on a sham copyright assignment, run roughshod over fair use, and have abused the legal system by forcing bloggers and web sites to pay cost of defense settlements," he said. "It's obvious Righthaven's litigation scheme has failed, and we urge the appeals court to deny Righthaven's last ditch effort to resuscitate its business model."
In one of the cases being appealed by the law firm, Righthaven v. DiBiase, the lower court found that the firm couldn't pursue its litigation because it didn't have the rights to the copyright it sought to enforce.
Righthaven has filed hundreds of copyright suits based on an agreement it has with Stephens Media, publisher of the Las Vegas Journal-Review. Under that agreement, Stephens retained most of the rights to its copyrighted material, but assigned the right to sue for infringements to Righthaven.
That arrangement worked fine as long as the targets of Righthaven's lawsuits settled their cases out of court. But once a case landed before a judge, Righthaven found itself challenged.
Righthaven has never won a single case on the merits and has been ordered to pay more than $200,000 for defendants' attorneys fees and $5000 in sanctions, the EFF says. Righthaven's domain name, righthaven.com, was auctioned to help pay these judgments, and its founder and CEO, Las Vegas attorney Steven A. Gibson, is being investigated by the Nevada State Bar.
"Righthaven is now in the hands of a receiver," EFF said in a brief (PDF) filed with the court. "This appeal, along with several others currently pending before the Ninth Circuit, represents Righthaven's forlorn hope to salvage its extortionist business model."
What's more, one-time Righthaven ally Stephens Media has started backing off copyright claims formerly pressed by the law firm. Last November, for instance, the company stopped contesting fair use arguments in a case involving Journal-Review material posted on the website of the Democratic Underground.
In its other appeal, Righthaven argues that its case against the Center for Intercultural Organizing shouldn't have been dismissed on the basis of fair use because an entire article from the Journal-Review was posted to the group's website. Lifting an entire article isn't a fair use of the material, it maintains.
However, that's not the case in law, according to the brief (PDF) filed by Google. "Righthaven ignores the fact that the Supreme Court, this Court, and numerous courts outside this Circuit have expressly found fair use in cases involving complete copies of a plaintiff's work," it said.
Follow freelance technology writer John P. Mello Jr. and Today@PCWorld on Twitter.