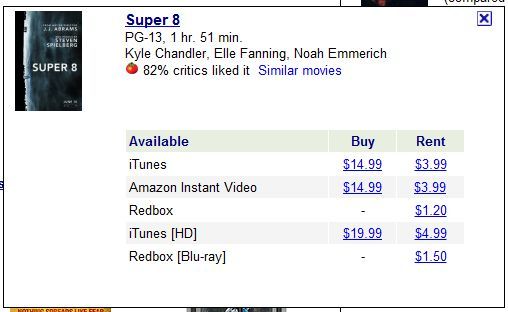 I'm not sure what a "trizzle" is or why you'd want to slap an "e" in front of it, but I know I like eTrizzle. It's a cool service that lets you search for movies you want to stream, rent, or buy.
Just plug in the name of the movie you want to see. eTrizzle searches across seven major services: Amazon Instant Video, Amazon Prime, Crackle, HBO Go, iTunes, Netflix, and Redbox.
Wherever it finds matches, it shows you the prices for buying and/or renting the movie. If it's available for streaming, you'll see a View link you can click to start watching immediately.
For example, suppose you've got a hankering to see "Back to the Future." You could check Netflix to see if it's available for streaming. When you discover it's not, you might head to iTunes to check the rental price, and then maybe Amazon Instant Video to see if it's any cheaper. (Both services charge $2.99, though iTunes hits you up for an extra buck for the HD version.)
Now you've probably invested 5-10 minutes of your time and at least $3 of your money–without ever learning that "Back to the Future" is currently available via HBO Go. eTrizzle has the potential to save you both time and money.
That said, it's not perfect. When I searched for kid-favorite "Tangled," for example, it showed only the iTunes listings–even though the movie is available for purchase from Amazon Instant Video and for streaming via Netflix.
Even so, I'd say eTrizzle is worth bookmarking for any movie fan–especially those who like digital delivery of their movies.
Contributing Editor Rick Broida writes about business and consumer technology. Ask for help with your PC hassles at hasslefree@pcworld.com, or try the treasure trove of helpful folks in the PC World Community Forums. Sign up to have the Hassle-Free PC newsletter e-mailed to you each week.