At a Glance
Pros
Great tutorials
Active community
Includes 32-bit and 64-bit modes
Easy to use
Cons
Features are lean without plugins
Originally commissioned by Microsoft as a replacement to Paint, Paint.NET (free) has come very far indeed. With tools to manipulate photographs and draw and paint pixels, Paint.NET bridges the gap between Photoshop- and Illustrator-type software. Now you can eliminate red eye, fix the contrast, change the sky to green, paint a fake mustache on your brother-in-law, and convert the image to look like an oil painting, in one easy-to-use program.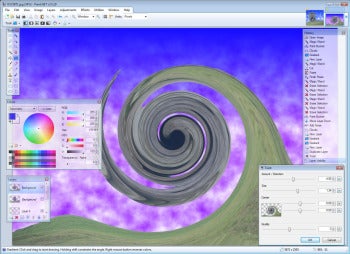 Paint.NET is free, and when you first start using it, you may be fooled into thinking that it's pretty basic. In fact, the naked program is refreshingly lean: For example there are limited brush styles, preset shapes don't include a star or triangle, and there are only three Artistic Effects–ink, oil, and pencil. All the stuff that could get distracting at first (but may want to pick up later) for Paint.NET is in the user-created Plugins, which run the gamut from brushes to 3D modeling. Most of them are free—and with them, you can build the Paint.NET you need.
Without any plugins, Paint.NET is still a very powerful pixel editor that's very intuitive and has a user-friendly UI. Paint.NET's Clone, Eraser, and Magic Wand tools work exactly as you'd expect them to; There are unlimited undos, or you can just jump back using the history window; there's a Magnifying glass as well as zoom in and out buttons; and the floating Tool menu boxes become transparent, so you don't need to stop what you're doing if you run into one.
You can add layers as you need them in Paint.NET, but the layers work just like an overlay you can turn on and off. There's no way of locking them, no transparency, and no effects features within layers like with RealWorld Paint (also free).
Paint.NET has many of the same tools that you'll find in ($700) Photoshop, but Paint.NET just seems friendlier and easier to use. In Paint.NET the Lasso shape you draw is easily moved or manipulated. And, much like vector-based Xara Photo & Graphic Designer ($89), gradients are easy to create and color.
Unlike many raster programs, including RealWorld Paint, with Paint.NET you can either specify the number of pixels of your new artwork, or specify the resolution and page size. It's a little confusing if you don't understand the relationship between pixels, resolution, and inches; but worth doing your homework if you're serious about digital art. And, since Paint.NET works only in raster (think pixels), you need to choose wisely, because your artwork is not scalable. If you are looking for a great vector (scalable) or page layout program, but don't want to pay for Illustrator, try Xara Photo & Graphic Designer or Serif DrawPlus Starter Edition (free).
All in all, even without the Plugins, Paint.NET is a great raster image program. If you've ever struggled to find Photoshop's hidden gems or can't get familiar with GIMP's unusual UI, spend a little time researching and downloading Plugins, and you'll become a Paint.NET convert. Paint.NET is simply the best image manipulating, painting and drawing program you can get for the price. Snap it up before Microsoft realizes what they're missing out on, buys it back, and starts charging the big bucks for it.
–Clare Brandt